[Since most of us won't be taking the in–person tour, here's a way to experience the White House decorated for the holidays; the story is from iDigitalTimes Australia and features the 5:17 minute 360 degree video. –Matthew]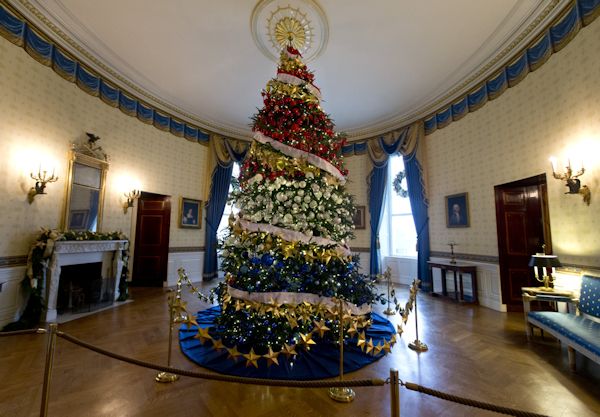 [Image: From Engadget]
Google Provides Virtual Reality Video Tour Of The White House
By Ken Salcedo
Mon, 12/21/2015
Google managed to get in the White House and was able to capture 360-degree videos showing some of the Presidential home's rooms and corridors. Users will be able to watch the five-minute video on YouTube, or they can even experience it on the company's Cardboard VR headset.
The 360-video footage was taken with Google's new Jump rig which consists of 16 cameras. The $15,000 camera rig was designed in partnership with GoPro and comes with software that is able to stitch video captured into a viewable 360-degree video. "We'll continue to release videos that highlight the potential of Jump," a Google Spokesperson said in an email to VentureBeat. "However, we are looking to get the tech in the hands of more creators."
The video footage might be short, but it gives viewers a look inside the White House as if touring it in real-life. Viewers will be able to see the China room, Vermeil Room, the Library, the East Garden Room and the East Colonnade. Since it's the Christmas season, audiences will get to experience what it's like to celebrate the holidays in the White House as its halls, corridors and rooms are all decorated with ornaments and a lot of Christmas trees.
People can view the video on the White House's official YouTube channel. They can simply click and drag the video to get the 360-degree experience on their desktop or laptop PCs. Users on Android will be able to experience it much like a true virtual reality video via the Google Cardboard VR headset. Users of iPhones, on the other hand, will have to just experience it on the YouTube app. They can just move their phone around to get the 360-degree view of the tour. Admittedly, however, the best way to experience it is on Cardboard.
As The Verge pointed out, 360-degree videos are difficult to pull off, and this White House tour doesn't come with great quality even in high resolution. Video quality aside, it does give everyone the chance to tour the President's home in virtual reality. This is also part of Google's ongoing effort in providing new ways on how to deliver educational content through their technologies.