[This is an inspiring story from People about the ability of new 3D printing technology to create presence experiences for the blind (see the quote in the second paragraph); the story includes more images and a 4:27 minute video, and see the 3D Photoworks website for more information and a series of videos. And see the website for Sonic Paintings for a complimentary technology. –Matthew]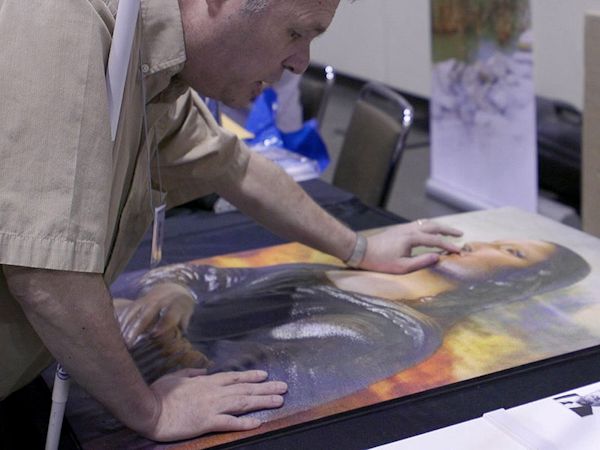 3D Creations Allow the Blind to Experience the World's Greatest Artworks in a New Way
By Cathy Free
10/26/2015
As he traced his fingers across a copy of the painting, "George Washington Crossing the Delaware," at a convention for the blind last year, Luc Gandarias was astonished to feel a sword hanging at Washington's side and a river swimming with chunks of ice. He could even tell that the soldiers in the boat were determined to reach shore by the intense expression in their eyes.
"It was the most vivid thing I've felt since I lost my sight," says Luc, 12, of Whidbey Island, Washington, who went blind at age 7 due to a sudden case of hydrocephalus. "It had texture and such incredible detail that I almost felt like I was there."
"I thought I would go the rest of my life without seeing something beautiful like this," he tells PEOPLE. "But now, I don't have to."
Thanks to a former award-winning photographer for LIFE magazine, Luc and other visually-impaired people will now be able to experience artwork and photography in a way they never imagined. John Olson, who began his career covering the Vietnam War, started his company, 3D Photoworks, in 2008 and has spent the past seven years perfecting a patented fine art printing process that is about to make its worldwide debut.
The Canadian Museum for Human Rights in Winnipeg will be showing an exhibit of 3D photos taken by blind photographers in early 2016. Olson, 68, who lives in Chatham, New York, says he also plans to approach several American museums later this year about opening 3D exhibits.
"With 285 million blind people worldwide, we're going to change the way they 'see' art and photography," he says. "For the first time, they'll have tactile, quality information that will be on a level playing field with the sighted."
Advocates for the blind are lauding Olson's invention as the greatest thing since the arrival of braille, nearly 200 years ago.
"As a blind father with both blind and sighted children, it thrills me that my family will be able to explore and appreciate great works of art, photographs and other images together," Mark A. Riccobono, president of the National Federation of the Blind, tells PEOPLE. "Although most barriers that blind people face are created by misunderstanding and low expectations, the process (Olson) developed is an innovative, thoughtful approach toward meeting this challenge."