[Presence experiences don't have to involve experiencing the world as yourself or even another human; check out the 1:57 minute video and the other screenshots in this story from The Creators Project blog. –Matthew]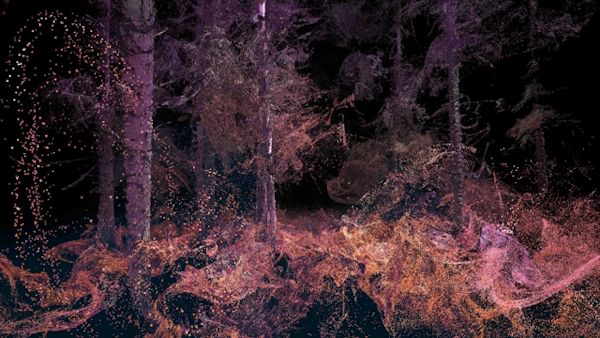 Finally, Virtual Reality Lets You Become a Mystical Forest Creature
By Kevin Holmes
Sep 22 2015
In previous eras if you wanted to experience the world through the eyes of an animal you'd have to be some kind of next level shaman, but now we have virtual reality. In the Eyes of the Animal, the latest project from Marshmallow Laser Feast—Robin McNicholas, Barney Steel, and Adam Doherty—does exactly that. Set in the sculpture-laden Grizedale forest in the Lake District in the north of England, the 360° therianthropic VR experience let users see the forest through the eyes of its inhabitants.
Wearing large, moss-faced black headsets, users journey through an abstracted LIDAR-scanned woodland and soar above the forest canopy—captured using 360° aerial drone cameras—while coming into contact with various creatures. Some of these were captured by a photogrammetry rig, some CT-scanned in ultra hi-def by the Natural History Museum.
These scans and aerial footage allowed MLF to interpret the world of the animals, digitally imagining the perspectives and microcosms these animals exist in, embellished through VR and the laser-scanned impressionistic aesthetic of LIDAR technology. Users also experience binaural sound through a headset to help submerge them in this simulated world, and there's also a Sub Pac device so the audio can be felt as well as heard.
Barney Steel, creative director and co-founder of MLF, explains: "We've always had a hunger for hacking people's senses by combining art and technology. In the Eyes of the Animal gave us chance to use VR as a first person perspective medium—the ultimate way to hack someone's senses. Using VR to immerse someone in the sights and sounds of animals creates empathy by simulating the way that others sense the world. This type of first person perspective experience is—in my opinion—VR at its best."
The piece ran as part of the Abandon Normal Devices (AND) Festival which took place in the forest from September 18 through 20. MLF are now looking to the project's next evolution and are seeking partners to help with this.