[You can 'be there' on the red carpet as stars arrive for the MTV Video Music Awards this Sunday. This story is from Fast Company's Co.Create, where it features more images and a video; the VMA website is here. –Matthew]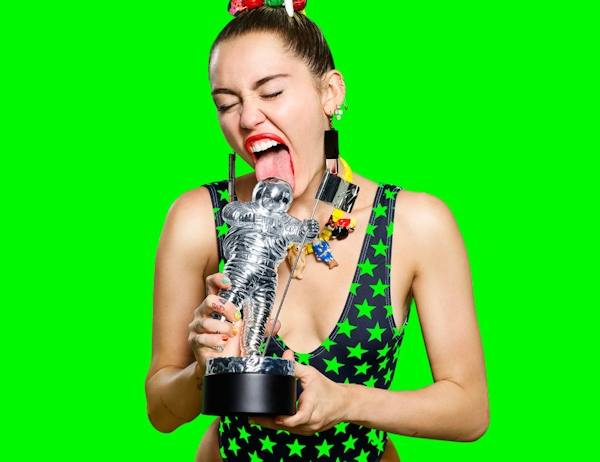 MTV Rolls Out The VMA Red Carpet In Your House With 360-Degree Virtual Reality
The star-studded pre-show may never be the same.
By Lydia Dishman
August 27, 2015
For some music fans, seeing a red carpet parade of celebrities and artists is almost as important as the awards show their favorites are there to attend.
MTV's long been offering dedicated viewers a pre-show lead-in to its Video Music Awards (VMAs), replete with up-close coverage of fashion hits and misses designed to be memorable (hello, Dennis Rodman in a sparkly crop top in 1995, and Gaga decked out in sirloin strips in 2010).
But what's it like to actually be on the carpet surrounded by thousands of screaming fans? That's an experience that Colin Helms, MTV's senior vice president of Connected Content says the network wanted to bring to viewers for this year's award show. The challenge, he tells Co.Create, was how to make it immersive as well as unique. The solution: virtual reality.
This year's VMAs will incorporate the technology to give viewers a three-dimensional experience of the star-studded carpet walk. Google Cardboard's glasses will offer a full VR experience, but for those without the eyewear, a mobile app allows the viewer to move in any direction to see different angles while a track pad or mouse can also navigate around the scene on a desk or laptop. Jeff Jacobs, MTV Music Group's svp of production planning, "Finally the technology has caught up with storytelling. Finally a kid with $3 or $5 can get Google Cardboard," and have a fully integrated experience.
Helms admits that the glasses will provide the optimal experience, but doubts that many will actually buy a pair to use for this event. He does emphasize that the 360-degree access will give the streaming viewer (on mobile or desktop) unprecedented access to unrehearsed moments.
MTV isn't the first to try VR for a broadcast. Spike TV's "Lip Sync Battle" is said to be the first television series to be filmed in virtual reality. The show, hosted by LL Cool J and Chrissy Teigen, was also filmed in 360 degrees, placing viewers right in front of the hosts and their celebrity guests. That episode drew record ratings for Spike, claiming 3.2 million viewers.
The non-scripted format seems to work best in the nascent stages of VR, but critics of the format complain that while the action is realistic, the video and audio streams don't always stream.
Such hiccups may not happen for VMA viewers. Jacobs points out that this isn't MTV's first foray with virtual reality. While the network's All Access Live platform has offered viewers an increasingly fuller glimpse of its signature awards show, Jacobs says that MTV has been testing the technology for the past six months, using it to shoot performances at SXSW, where he says they were trying to pinpoint the right height for the camera to capture the best mix of artist views on stage, fans, and the talent in the loge.
MTV partnered with IM360, the company that captured Conan at ComicCon using VR technology, but filming live streaming in 360 degrees was a challenge for both teams, says Myles McGovern, president of IM360. In addition to working for years to perfect its own live stream and real-time stitching, McGovern notes that MTV designed the red carpet especially for 360 shots.
Jacobs says that "10 out of 10 red carpets are straight" and shooting that would be "lame." So they created the walk with curves and angles to add dynamic interest and placed a camera in the center of the action so attendees could flow around it. Don't expect anyone to bump into it and cause a commotion. Jacobs asserts that the camera will be suspended upside down above the action. "The software will reverse the field," Jacobs explains.
MTV's All Access Live had more than 6.5 million streams during the 2014 VMAs. Ultimately, though, Helms and company aren't looking at VR to be a ratings booster. Last year, the audience cam proved to generate just as much buzz (and probably more gifs and memes) as what was happening onstage. Says Helms: "It's meant to be additive to whole experience."
—
The VMAs will air Sunday, August 30.