[Some fans of television programs go to filming locations and take photos that include photos of characters and scenes from the show, apparently attempting to form (presence) connections to the places and people in the fictional world. As a fan of Orphan Black, I favor the ones by arcsloth on that program's Tumblr; an example is below, followed by a story from The Huffington Post about (and featuring many examples of) the same phenomenon for Orange Is The New Black. -Matthew]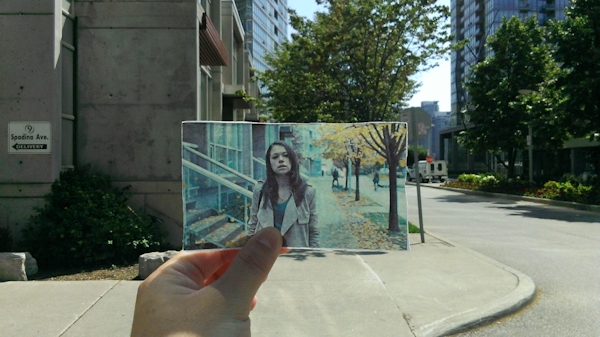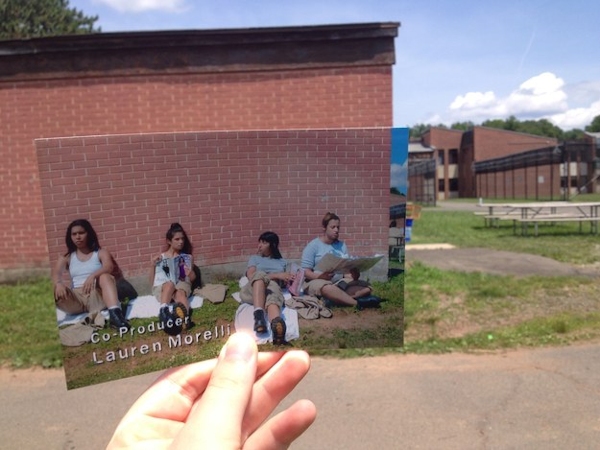 Teen Trespasses On Abandoned 'OITNB' Set, Show Has Great Response
By Taylor Pittman
Posted: 07/06/2015; Updated: 07/08/2015
A Netflix binge just wasn't enough for this "Orange Is The New Black" fan.
Samantha Gardella from Monroe, N.Y., wanted something more, so she visited the set of the Netflix original series. The idea came after Samantha noticed a tweet from a local radio station explaining that scenes for the show's fourth season would be filmed at the abandoned Rockland Children's Psychiatric Center. According to LoHud.com, the location is a "stand-in for the fictional prison where the show takes place." It also happens to be about 30 minutes from Samantha's house. Since realizing the set was so close to her, she's visited three times and has taken home some creative souvenirs.
The 19-year-old film student took screenshots from the show and matched them up with the actual locations. She took inspiration from a similar photo she discovered that lined up with a scene from "The Walking Dead."
"There is no gate at the entryway to keep any uninvited guests out," she said in an email to HuffPost. "When I went there the second and third time, all of their fences and doors were unlocked, which was odd because you'd think they'd lock everything."
Samantha said she wasn't the only one who thought it'd be cool to see the set in person and explained that there were other fans "walking around checking out the set as well." She did clarify she was recently notified that she was trespassing on private New York state property and has been "respectfully asked not to return to the set" unless she has permission.
She's already taken the photos though, and they've gotten her a lot of attention. Since being posted on June 26, her Tumblr post with the photo series has been reblogged and liked more than 127,000 times. She's received a "huge amount of positive feedback" from family and friends as well as complete strangers.
The official "Orange Is The New Black" Twitter account also had something to say in what was probably the coolest response to the photos.
With a response like that, something tells us the set will now be a little more secure.