[This story from Mashable provides a good description of how technology creators are refining presence-evoking technology in a popular and challenging context; as the note at the beginning says, the original story contains more images (it also includes a 1:11 minute video). –Matthew]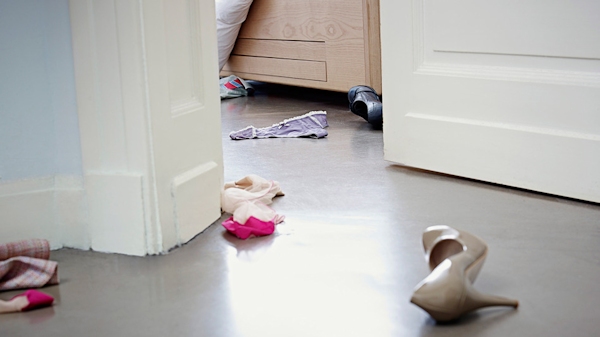 Virtual reality sex is coming — and the toys are already here
By Mandy Stadtmiller
May 29, 2015
Note: The following post contains sexually graphic images and descriptions.
You're lying back on a bed. You look around. A porn star walks in. She mounts you. And as she does, you can feel the thrill of her tight contractions.
Except, you don't know any porn stars. You're a hypochondriac virgin. The closest thing you have to a girlfriend is your prized second-generation Oculus Rift developer kit headset.
Today's VR early adopter with a hankering for pornography that involves elaborate prep work, multiple cords and a bulky headset just got a whole lot luckier, thanks to a new partnership between teledildonics company Lovense and the self-explanatorily named VirtualRealPorn.
On May 19, these two companies announced they would work together to integrate Lovense's two signature Bluetooth-enabled sex toys with VirtualRealPorn's limited (but growing) category of porn, featuring not CGI or "uncanny valley" models but actual porn actresses and actors.
"The basic idea is to allow the brain to be tricked into thinking the experience is real," says Eddy Olivares, marketing manager of Lovense, a company founded to allow two-way interactive synchronized sex toy pairing across continents.
The key to tricking the brain will be the use of "haptics," or touch feedback integrated into the VR videos. Lovense has two models: a male toy (called "Max") and the female toy (called "Nora"), which retail for about $199 and come with a Bluetooth wireless dongle to pair with a computer or smartphone. The male toy uses air pumps to simulate contractions and the head of the female toy rotates to simulate penetration. There is also a clitoral stimulation arm on the female toy that vibrates when the two performers' bodies collide.
The setup requires a bit of patience, but for the sexually adventurous programmer, it's perfection.
First, the user positions the Lovense device in their genital area and enables the Bluetooth wireless dongle. Second, he or she puts on the VR goggles. Third, he or she begins the VirtualRealPlayer (which recognizes the Bluetooth device) to enable the POV porno in 180-degree stereoscopic viewing. Finally, as the movie is playing, the Lovense sex toy synchronizes automatically with the video being watched.
"Already, with VR porn, you can get fooled into thinking it's real for a few moments," Olivares says. "When an actress comes close to you or when you initially look down at the action, your brain can be tricked. Our goal is to provide a toy that can perfectly mimic the movements on-screen."
The inspiration for that mimicry? A husband and wife team based in Spain — Leonor Laplaza and her husband Mike Kovalsky (a pseudonym) — who invested €4,000 of their honeymoon money to form VirtualRealPorn. Working in an advisory (and sometimes acting) capacity are their friends adult film stars Amarna Miller and Onix Babe.
Founded in 2014, a year later the company now boasts eight part-time employees and thousands of subscribers (they will not release their total subscriber data) who pay the €15.95 monthly fee. So far, they have produced about 45 movies, 10 of which can fully integrate with teledildonics.
Kovalsky says they approached teledildonics company Lovense in order to make the VR porn experience not just mental but physical. They asked a few select users to test out the Max and the Nora models along with their movies and provide feedback in order to synchronize the toys as realistically as possible. In the long run, cumulative user feedback will influence actual development of the toys on Lovense's end.
"Feedback was very good," Kovalsky says of the user trials. "One user told us he likes the vibration acting more continuously when the actress touches you. So we make five or six videos with that kind of movement."
Initially, Kovalsky says, they tried to create movies that would allow the user to move around in the VR world, but there was too much nausea reported from the testers. So now, everyone is lying down.
Kovalsky and his wife do everything in the company, from filming the movies (they pay anywhere from €100 to €600 for the actors to film a scene) to marketing and distribution. They made a vow when they formed the company that if it affected their relationship adversely, they would stop. Instead, they are profitable (they were finally able to take that honeymoon to Zurich, Switzerland, and Venice, Italy, a year later) and able to keep a committed relationship amidst all the nudity and the ménage trois scenes (they have two three-way movies, one aptly titled Taking Care of You).
"There isn't any trouble," he says. "We love each other a lot, and every night we kiss and we make love, with more passion. We are learning new things about sex."
So far their subscriber base breaks down approximately:
33% Oculus Rift; 35% Google Cardboard; 32% Samsung Gear VR
50% of users are in North America; 40% are in Europe; and 10% are in Australia
Users ranging from their 20s onward, with Americans more likely to be in their 20s; Europeans to be in their 30s; and Australians to be in their 40s.
VirtualRealPorn is also releasing an Android and iOS app in the next few months, and toy synchronization with Lovense will be available when it is released.
While anyone can purchase the Max and Nora sex toys currently being synchronized with VirtualRealPorn's cinematic inventory, Lovense is in the process of developing further innovation in the field, although no visible prototypes are ready.
"The male toy that we may manufacture, with VR porn in mind, will be a hands-free stroker," Olivares says. "It will use magnetic technology to perform the stroking action. This will be able to synchronize with VR porn very well and won't require movement by the user. By removing the need for a user to physically move the toy, the fantasy becomes more realistic."
Advancing a hands-free female toy is more complicated.
"We're in the early stages of designing a toy which mimics thrusting," Olivares explains. "This one is a bit more difficult because toys of this style typically still require a user to hold them. Traditional (thrusting) hands-free toys are sex machines, which are huge, so we're experimenting with ways to solve that issue. We have some early sketches, which have straps to hold up the toy by attaching to a woman's thighs. The design needs a lot of work, though."
Ultimately, he says the interactive storyline virtual reality porn of fantasies (or nightmares, depending on your perspective) is five to 10 years away. To assist in this, the vision would be for their company to create more interactive smart sex toys, as well.
"Ideally, when a user moves his toy (or another peripheral), the performers on screen would react," he says. "We've thought about making sex toy accessories like floggers or paddles that might enable a user to fulfill his fantasy in a virtual world. The barrier is that there is a lack of sensors able to detect tiny changes in movement (even 4-6 cm)."
Technology will no doubt dramatically improve. Other teledildonic competitors currently on the market include VStroker for Fleshlight; Mojowijo, designed for the Wii; OhMiBod, an iPhone controlled vibrator; and Kiiroo and LovePalz, which both offer sex toys and a social network. One of the first teledildonic companies, RealTouch Interactive, has recently scaled back due to difficulties in patent licensing. Corporate competitors for VirtualRealPorn include Huccio, and several hobbyist developers have also created multiple videos which are advertised in an extensive online VR porn directory.
But one key factor will not change VirtualRealPorn's approach: Any improvement in computer simulations of people is of no interest to their company, Kovalsky says.
"It seems like the people are sick or monsters," Kovalsky says. "The basis of our website is to use real actors and actresses. We want to make porn more realistic and more sensual, and we don't want to make any kind of porn that involves women or men being humiliated."