[From The New York Times, where the story includes an additional image]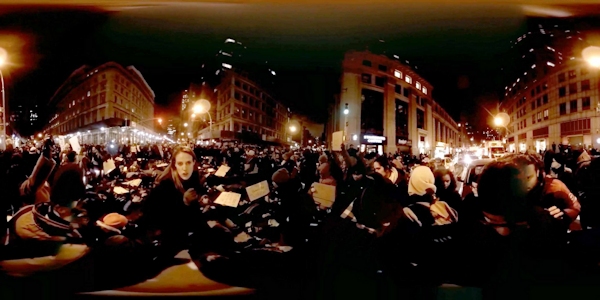 [Image: A scene from the Millions March protest. Credit VICE]
Vice Uses Virtual Reality to Immerse Viewers in News
By Emily Steel
January 23, 2015
A young woman stands in the middle of a crowd of protesters marching up a New York City street, shouting that she is fed up with police brutality, fed up with people saying that black lives don't matter, fed up with people telling her not to be angry.
"My people don't deserve this," she yells, inches away from your face. "We have right to protest. We have right to be angry."
You look to the left, and see protesters holding a sign reading, "White Supremacy Is Deadly." Spin to the right, and you see a throng of observers, their expressions stern as the protest continues.
These vivid images are part of an eight-minute virtual-reality experience that catapults audiences into the center of the Millions March protest in New York in December. Created by two experienced directors, Chris Milk and Spike Jonze, in partnership with Vice News, the project is a virtual-reality journalism broadcast. It will make its debut on Friday at the Sundance Film Festival and in a new virtual reality mobile app called Vrse, which is available on the Vice News site.
There are three options for experiencing the project at home. The first is a virtual-reality headset, like the Oculus Rift device. The second is with the Vrse app, downloaded onto a smartphone and connected to a simple viewer, like a cardboard one that Google designed to be built on your own. Finally, viewers can download the app and watch directly on a phone, which provides a close approximation of the experience but loses some of the 3-D features.
Long the purview of the gaming world, virtual reality represents a new frontier for journalism. News reports for years have borne witness to the events shaping the world. Now, directors and reporters are experimenting with virtual-reality technologies to essentially transport people into those events.
In addition to the Millions March protest, Mr. Milk is releasing a virtual-reality project in collaboration with the United Nations that explores the life of a 12-year-old Syrian at a refugee camp in Jordan. The project, called Clouds Over Sidra, will make its debut on Friday at the World Economic Forum in Davos and on the Vrse app.
Mr. Milk, known for his experiments with technology-driven storytelling for music and museums, called virtual-reality technologies "empathy machines."
"We're hacking into the audio and visual systems of your brain," he said. "A major part of journalism is painting people a picture of what it was like to actually be there. With this, the audience actually feels like they are there."
Also at Sundance, Mr. Milk announced a venture with Megan Ellison's production company Annapurna Pictures to create virtual-reality projects.
A series of developments with virtual and augmented reality are making those forms of journalism more accessible to the public. On Wednesday, Microsoft introduced a headset called HoloLens that will allow people to interact with holographic images. Other major tech companies are working on virtual-reality headsets, like Google's low-tech variation that requires a cardboard viewer for less than $30 and a smartphone.
"We're barely at the beginning of this medium," said Mr. Jonze, whose films include "Being John Malkovich" and "Her." "It is fascinating to think about and talk about what forms of storytelling will evolve."
Vice plans to work with Mr. Milk on a series of virtual-reality projects and has also invested an undisclosed sum in Mr. Milk's virtual-reality company, called Vrse. That financing is one of a series of technology investments Vice Media has made since closing a pair of investments in September that total $500 million, part of which will be dedicated to creating technologies for distributing media.
Eddy Moretti, Vice's chief creative officer, said that virtual reality was the logical next step for Vice, which has been committed to immersive, unorthodox storytelling with reports from countries like North Korea, Ukraine and Greenland. He said that the company was eager to use virtual reality for additional news projects, as well as for music and food experiences.
"It is not meant for us for titillation. It is meant for real immersion into a story or culture," he said. "We're interested in ideas and emotions and not roller-coaster rides."