[From Advertising Age, where the story includes a 2:30 minute video]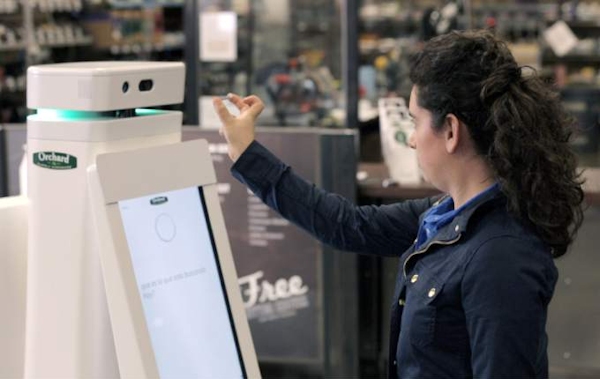 Meet Lowe's Newest Sales Associate — OSHbot, the Robot
Retailer's Innovation Lab Seeks Answers to Shopper Problems
By Ashley Rodriguez. Published on October 28, 2014
Lowe's is set to unleash a retail-ready, multilingual robot. The project is designed to help shoppers navigate stores quickly and easily.
"People want to come in and find exactly where they want to go," said Kyle Nel, executive director of Lowe's Innovation Labs. "And they want to have a conversation instead of trying to find a map."
Customers can talk to the robot, OSHbot, like they to would speak to a typical sales associate, and it recognizes and responds in multiple languages. It's equipped with a screen that shoppers move through "Minority Report-style" — it recognizes hand gestures made in front of the screen and can be used as a typical touch screen as well. OSHbot is also mobile and will roll up to customers to greet and escort them through the aisles.
Outfitted with a 3D scanner, OSHbot can help shoppers locate items, even if they don't know what they're called. For example, customers can scan a screw or nail brought from home, and OSHbot will search its database to locate it in the store or online.
The robots were born out of the Lowe's Innovation Lab, an experimental department that works with science-fiction writers and startups to solve consumer problems with technology.
"We believed that in the near future — in the next five years, 10 years — someone was going to come out with a retail operational robot and that was going to change retail," said Kyle Nel, executive director of Lowe's Innovation Lab. "So we figured, why don't we do it?"
Like all Lowe's Innovation Labs projects, the robots started with a comic book that imagined a way to ease customer frustrations.
In big, warehouse-style stores, like Lowe's, customers may wander for some time before they actually find what they need. Often, people either can't immediately find a sales associate to help them, or don't want to ask for help. The latter barrier is especially true for non-native English speakers, who fear they will be misunderstood.
"Home improvement is a very high involvement thing," said Mr. Nel. "So having that ability to ask questions in your native language every time, to a robot, makes the expectation that every time you'll have the same high quality experience."
The robot's primary goal is to improve in-store navigation, but it has a number of other features as well. For example, its telepresence allows shoppers to connect with off-site experts who can consult on projects.
"Having a mobile computing station with 3D scanning capabilities, and many other things, clearly opens up a whole new realm of possibilities of what we can do to help our customers and our associates," said Mr. Nel.
Lowe's worked with Singularity University and a startup, Fellow Robots, to bring the project to life. It went from comic book to completion in less than a year. That's less time than it took the Lab to complete its first project, Holoroom, which is a home-improvement simulator with 3D and augmented reality technologies.
"We took a robotic startup and we shared our vision with them," said Mr. Nel. "We worked on the concept and the functionality and even incorporated some of our Holoroom technology into the robot to make it something that no one, to my knowledge, [is] talking about or doing … at this scale."
But don't expect to see the robots in Lowe's stores just yet. The retailer plans to start testing before the holidays at a Lowe's-owned Orchard Supply Hardware store in San Jose. There are no additional roll out plans as of now. The company wants to test the robots in the real world to see how they interact with people before expanding to other stores.
"The big unknown is the human component," said Mr. Nel. "We have the technology that works really well. But there's some basic questions that there's just no way to answer until you actually view it."
There's also a learning curve for Lowe's employees, who need to get used to working with their new artificially intelligent colleagues. Mr. Nel said the robots fill a void that Lowe's employees aren't able to — knowing where every piece of inventory is at all times. It also frees them up to do other work, like helping customers plan home improvement projects, he added. Rather than replacing workers, the robots will add a new element to Lowe's customer service team.
"What our sales associates are amazing at doing and what they love spending time on are consulting and helping customers with their projects and solving their problems," said Mr. Nel. "We can let the robots answer questions like, 'where are the hammers?'"
Mr. Nel declined to comment on the budget for the project or how much it will costs to add robots to stores. But he said to expect more projects like this from Lowe's.
"We're in the innovation space to stay," said Mr. Nel. "And we're going to continue to come out with things that are wilder and crazier."