[From The Daily Beast]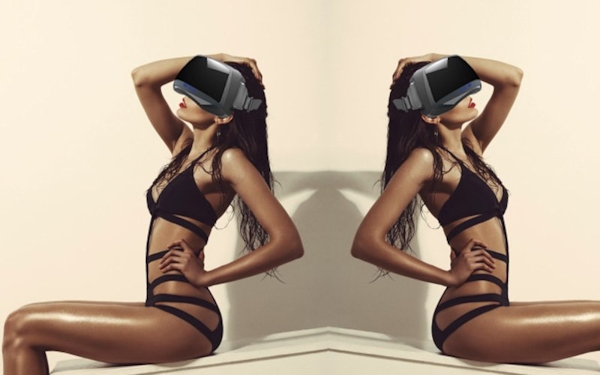 [Image: Elena Scotti/The Daily Beast]
'Real' Sex
Welcome to Oculus XXX: In-Your-Face 3D is the Future of Porn
Aurora Snow10.18.14
In 2015, experts claim that consumers will be able to use Oculus Rift's virtual reality technology to have simulated sex.
The future of porn will be a lot more personal.
In the last few years, a new generation of consumer-friendly virtual reality (VR) tech has emerged, bringing childhood fantasies and science fiction to life, and offering experiences so incredible that users have reported confusion and disappointment upon returning to the real world. A recent Alien video game demo proved so realistic and frightening that it even led some to question whether or not it could induce heart attacks. It didn't take long for the geek powers that be to figure out that this new tech would be revolutionary… for porn. Soon, consumers will no longer just be viewers but active participants—if they so desire.
Imagine a realistic, customizable experience in which you choose everything from the color of your partner's hair to the position and sex act you most desire in that moment. Swap out that blond with the A-cup for a busty redhead in an instant. Or maybe you'd like to talk a walk on the wild side and experience something you'd be embarrassed to ask for in real life. It's the ultimate curated experience and it could be available to consumers as early as next year. Brian Shuster, founder and CEO of virtual reality network Utherverse—parent company of Red Light Center, an online role-playing community offering a "metaverse" of virtual bordellos—has big plans for the future of adult entertainment.
"The studios doing major motion pictures weren't exactly equipped to capture how the inner labia works."
Shuster is currently integrating two new technologies, Oculus Rift and Leap Motion, to create an immersive interactive environment within the VR world. The Oculus Rift is a wearable headset that goes over the eyes like a clunky pair of scuba goggles. The user is then transported into a 360-degree virtual world. Leap Motion, as explained to me by Shuster, is a camera affixed to the Rift that can add elements of the outside world into the VR world like your body—particularly your hands, thereby doing away with the need for a keyboard or mouse.
"Everything you see is virtual but now with your hands there we can create menus—items that you can just reach up and grab, point, and click," says Shuster. "You can also interact with the environment. Not only can you navigate the menus but you can grab a chair and drag it over, or grab your partner and do things with him or her." This type of interaction takes VR to another level. But how realistic is it? This is, after all, a video game-like 3D model.
Shuster insists it's almost indistinguishable from actual porn content. "The resolution is basically identical. It's anatomically correct and with the motions you have the really subtle movements of the inner labia and the clitoris." A stimulated woman can even show signs of "wetness." This new VR porn promises to get the user up close and personal. Way, way close. "It's taken a long time and a lot of effort to get to that level. We had to invent a bunch of things in order to motion capture as you can imagine," says Shuster. "The studios doing major motion pictures weren't exactly equipped to capture how the inner labia works. That was a little bit of a challenge—not that it wasn't a fun challenge."
SugarDVD, essentially the Netflix of porn, is another company that's jumping in to test the waters of this bold and brave new world. Having invested in creating new content with motion capture and 3D imaging, SugarDVD spokesperson Rebecca Bolen says they've already scanned a couple of adult actresses [with 3D camera imaging]. "We get to be some of the first people pioneering what the future of sex will look like and what it will look like in twenty years," says Bolen. Asked if SugarDVD was concerned about having their Oculus Rift app blocked due to adult content, similar to what Google Glass did last year, Bolen says, "Oculus is hooked up to a computer so you can pretty much put anything you want on it. Also, we've been on PlayStation, Xbox, and Nintendo, so we don't have any problem getting past any blocks. There have been no issues in that regard."
Xbiz President Alec Helmy believes we're still a few years away from becoming fully immersed in this new virtual reality. "Until it becomes something you can naturally pick up off the table and put in front of your face it's going to be a while before it really goes mainstream in terms of a device for mass consumption of entertainment or content." Helmy muses that the Oculus may be a niche product until it's refined in both size and experience. Plus, with the absence of haptic feedback, it's essentially a souped-up viewing device. "Undoubtedly this technology is going to be a game changer for porn… At the end of the day you could create the most immersive, incredible experience, but if the device is not in too many hands then that limits the commercial potential of it."
Various reports on the Internet estimate the consumer cost for an Oculus Rift to be somewhere between $200-400, though no exact price has been set. Currently, elaborate sex toys, including life-like love dolls, can cost upwards of $6,000. The market for high-priced simulated sex certainly exists. While development kits are available for programmers and over-anxious early adopters, its not expected to become publicly available until 2015.
Though some fear the impact an immersive virtual reality can have on real world relationships, others see it as a natural evolution. Relationships that have blossomed via social media and the Internet can feel just as real as any tangible one. Jennifer McEwen, co-founder of the porn app store MiKandi, believes simulated sex between two real-life lovers (see: the scene between Sandra Bullock and Sylvester Stallone in Demolition Man) is an inevitable progression from online relationships. "VR and wearables and other new tech have the potential to help us cultivate these relationships and reduce the distance between ourselves and our partners."
Imagine what a webcam model could do with this technology. A webcam girl could offer a "hands on" interactive session without ever having to leave the bedroom or swap bodily fluids. A porn star could give an explicit how-to tutorial to a couple a thousand miles away. The world of porn is about to change. But it's not just porn; this new tech has mind-boggling potential. The Oculus Rift essentially tricks your brain into believing what it sees is real. People who can't travel will be able to see the world, while others who might be physically impaired could, in true Avatar fashion, use their bodies in ways they've only dreamt.
Porn isn't the only VR genre Utherverse is exploring. Brian Shuster is also developing a VR-friendly web browser known as Curio. "There are real problems with how to navigate flat websites. You still need the keyboard and the mouse, but with Curio, if you're using an Oculus Rift for the menu you'll be able to use your hands in the air Minority Report-style," says Shuster. Browser preference might come down to how many times you want to slip your headset on and off. As Shuster says, "If you're going to be using a VR headset or experiencing virtual reality, you're not going to want to break that to do a quick Google search." And isn't that the point of immersive technology? Having a porn site up while simultaneously experiencing VR sex? All joking aside, what was once considered an expensive gimmick is on the verge of going mainstream.