[From Race Yourself, where the press release includes a 1:40 minute video and several photos (I couldn't find a screenshot with the 400 tonne cargo train –ML)]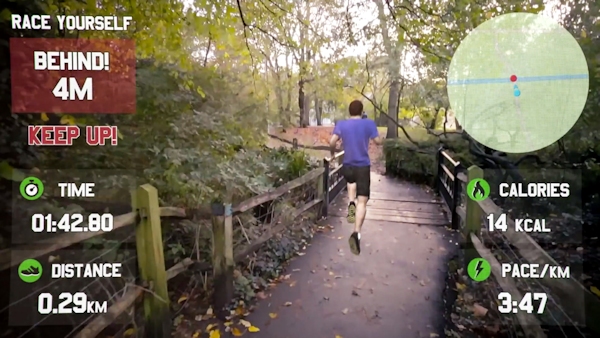 Get Fit This Year by Fleeing From Augmented Reality Zombies: Race Yourself Transforms Exercise Into a Game on Google Glass
Race Yourself is a New Fitness Startup for Google Glass, Aiming to Turn Exercise Into a Game.  By Racing Against a Virtual Projection of Yourself, Attaining Personal Bests, and Burning Calories, You Can Unlock New Game Modes Such as Running Away from Giant Rolling Boulders. Race Yourself has Already Raised £200,000 from Investors Lead by DN Capital, and is Now Launching a Crowd-Funding Campaign Via Their Website, www.raceyourself.com, on the 8th January.
January 2014
After the season of indulgence, the New Year provides the chance to consider a resolution to better oneself.  Getting fit is one of the most common resolutions, but after the initial eagerness has subsided, finding the motivation to persevere can be difficult[1][2][3][4].
Many new technologies are emerging that help you attain long-term fitness goals – from Nike+, which allows you to set exercise goals and track progress, to GymPact, a platform that uses financial incentives to motivate action.  The latest player in the tech-fit market is Race Yourself for Google Glass, aiming to reinvent the way we exercise by transforming a workout into an augmented reality game.
Race Yourself allows you to chase a 3D projection of yourself, a friend, or even an avatar Usain Bolt's speed.  The basic concept behind this new exercise platform is that having a target to aim for leads to higher motivation; so you chase a virtual projection set by your personal goals.
"Imagine racing against your own personal best, chasing a friend you want to beat, or even escaping a 400 tonne cargo train travelling at your target marathon pace.  By blending reality with virtual reality, we can make workouts a lot more interesting and motivating" – Alex Foster (co-founder, Race Yourself)
In total, there are over 30 games for Race Yourself that cover a variety of sports, from fleeing a horde of flesh eating zombies, to skydiving through virtual rings, to cycling in the Tour de France.  These games are unlocked by completing workouts, exercising multiple days in a row, and burning calories.
"As well as making exercise more interesting, we wanted to incorporate the addictive and social elements from gaming.  That's why we reward users with unlockable games for completing workouts" – Alex Foster (co-founder, Race Yourself)
Race Yourself has already demonstrated traction; raising £200,000 in seed funding with investors and in moving it's headquarters to San Francisco.
"We've had a huge amount of support, and a lot of people are just as excited about the knock-on effects for Google Glass.  We believe Race Yourself will demonstrate the potential of Glass as a consumer product" – Alex Foster.
Having spent the last 6 months developing, Race Yourself has now developed a product beta, and will be launching a crowd-funding campaign via their website on 8th January.  Their vision will be showcased to the public via an online video, and anybody wishing to back the project will be the first to get their hands on a free copy of Race Yourself and 10 fitness games.  For larger donations, backers will receive heart-rate monitors and speedometers that are designed to work alongside the software.
What might seem counter-intuitive for a website aiming to crowd-fund, www.raceyourself.com does not immediately allow backers to put money into the project.  Instead, the entire process is gamified – backers must earn points and level up by watching the video and interacting with the website.  It's only when they reach level 3 that they'll be able to back the new project for Google Glass.
"As well as raising money through crowd-funding, we wanted to familiarise users with how Race Yourself will work. Earning points to level up is a fundamental part of Race Yourself, so in order to back our project, you must first level up by playing the mini game on our website", Alex Foster.
References:
[1] In 2012, losing weight was the most common New Year's resolution, and staying fit and healthy was number 5  (Journal of Clinical Psychology)
http://www.statisticbrain.com/new-years-resolution-statistics/
[2] heart attacks are the number 1 killer worldwide according to the World Health Organization
http://who.int/mediacentre/factsheets/fs310/en/
[3] 80% of USA and UK adults not gaining recommended exercise
http://www.cbsnews.com/8301-204_162-57582759/cdc-80-percent-of-american-adults-dont-get-recommended-exercise/
http://www.express.co.uk/news/uk/418916/Nearly-80-do-not-exercise-enough
[4] lack of exercise is third biggest threat to 1st world according to WHO