[From Slate's design blog The Eye, where the post includes more pictures; follow the links for more information, including pictures and video.
Best wishes for a happy, healthy, safe, productive, and otherwise very wonderful 2014 to everyone in the presence and ISPR community! ]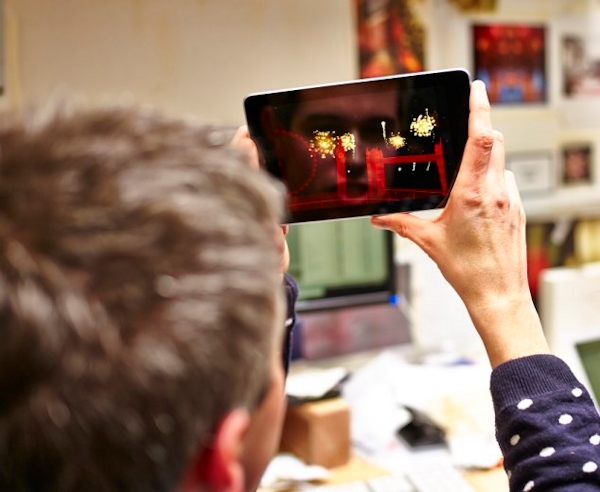 The First-Ever Fireworks Show You Can Taste and Smell
By Kristin Hohenadel
Dec. 27 2013 3
It's that time of year when every major city in the world vies to outdo the competition with an over-the-top fireworks display. This year Dubai is trying to break the Guinness World Record for the biggest fireworks show on the planet. Not to be outdone, the mayor of London is planning to offer up the world's first multisensory fireworks display that promises not to just be a feast for the eyes and ears but the nose and mouth as well. The event will feature edible banana-flavored confetti, giant orange-flavored bubbles, peach-flavored snow, and the scent of strawberries wafting through the nighttime sky to accompany the explosion of red fireworks over the banks of the Thames on New Year's Eve.
This mad-sounding multisensory design concept comes to London courtesy of Bompas & Parr, a food design studio founded by Sam Bompas and Harry Parr in 2007. Their early work centered on exploring the sensory relationship between food and architecture, creating jelly-based architectural recreations including St Paul's Cathedral. Their self-described "immersive flavor-based experiences" include an inhabitable cloud of gin and tonic, a chocolate climbing wall and a Taste Experience for the Guinness Storehouse in Dublin. The team has spent a year researching and developing what will be their most ambitious project to date, collaborating with fruit farmers, pyrotechnicians, flavor scientists, special effects experts and historians to orchestrate this New Year's Eve event.
Sponsor Vodafone (which is launching a London New Year's Eve fireworks app to accompany those watching from afar) has a website with some video of the design process and an interview with Bompas in which he says that he and Parr have always been "obsessed with fruit" and that they had worked with food scientists to create tastes and smells that are easily recognizable to the thousands of people who will be tasting them at the New Year's Eve show. "The evening will be a total sensory assault," he said. "As people experience flavored fireworks for the first time, we hope it'll be a real thrill."
Bompas also told the Daily Mail: "The concept of the world's multi-sensory firework display came from researching grand historic spectacles. We realized nothing of the sort had been attempted before and that it would be a genuine world first."