[From Tnooz, where the story includes a 2:01 minute video]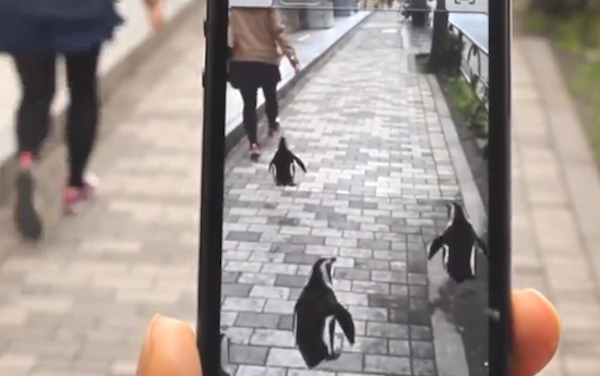 Japan tourist attraction uses digital penguins to increase visits
Karthick Prabu
Oct 16.2013
Sunshine Aquarium, a 35-year old Japan tourist attraction, wanted people to easily locate it amongst other point of interests and activities in Tokyo.
The aquarium is located in an extremely dense part of the city and is nearly a kilometer from the nearest station.
So, what did officials do to put it on the map? The aquarium went down the augmented reality route.
Firstly, it worked with Hakuhodo, one of Japan's largest advertising agencies, to identify a solution to the problem of being in competition with countless other tourist spots.
Hakuhodo came up with a concept of Penguins guiding people to the aquarium. The company used ten cameras to capture the movement of Penguins so that it can be mimicked exactly in a mobile app.
Once a user opens the "Penguin Navi" mobile app, they will see Penguins on the road (augmented reality) that walk and move exactly like real Penguins. These Penguins guide people to Sunshine Aquarium.
Hakuhodo also made available the QR code of the app in nearest public transport stations. The company says that humans are magically drawn to cute animals.
Results
Attendance at the Sunshine Aquarium increased 152% over the previous month despite no change in exhibition content.
People who downloaded the Penguin Navi app spent on average more than nine minutes at a time playing with it.
More than 32% of users opened the app more than seven times and 93% of users planned to recommend it to friends/families.
NB: Other innovative applications of augmented reality:  Frankfurt airport's QR code wall, Tesco Homeplus' virtual subway store in South Korea, and Chinese e-commerce player Yihodian's 1,000 virtual stores overnight.