[From Australian Ageing Agenda, where the story includes two more images]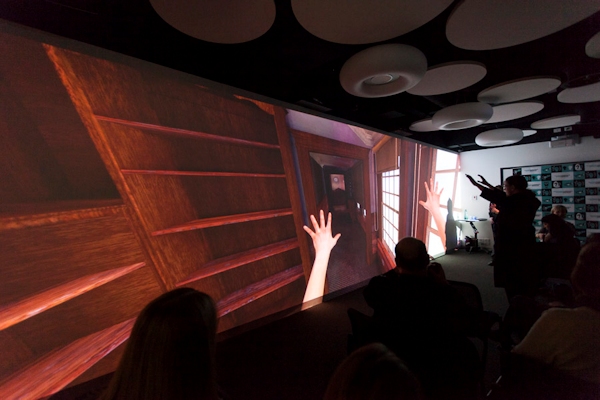 Virtual dementia experience for aged care workers
By Natasha Egan on October 24, 2013
Aged care workers can now experience what it feels like to live with dementia at an Australian-first dementia learning centre that uses light, sound, colour, visual content and serious gaming technology to create a virtual reality.
The Perc Walkley Dementia Learning Centre is a key feature of Alzheimer's Australia Vic's new facility in Parkville, Melbourne, which was opened by Alzheimer's Australia National President Ita Buttrose on Wednesday.
The training centre features doughnut shaped mood lighting, a 10 metre by two metre projection wall, an interactive touch screen and gesture-sensor technology.
It allows students to be immersed in the virtual world of someone with dementia and experience the cognitive and perceptual difficulties they might face in their daily life that can make ordinary tasks challenging or dangerous.
While conventional video games are made to entertain, serious games use traditional gaming technology and techniques to create tools for education or a particular purpose, said Norman Wang, the founder of Opaque MultiMedia, which is developing the virtual dementia experience (VDE).
"Normally people can understand dementia at an intellectual level. We are using immersive virtual reality so people can understand it at a visceral level," Mr Wang said.
The Avatar-like technology is based on input from Alzheimer's Australia Vic, people working in the aged care sector and researchers from Monash University as well as Opaque MultiMedia's own research on the effects of ageing and the different stages of dementia, Mr Wang said.
Through consultation with Alzheimer's Australia Vic, the first scenario developed focuses on the bathroom experience because that was one of the most difficult and potentially dangerous areas identified, he said.
Rather than using a controller, the operator uses their hands to move through the virtual world and can grab things. The movement is mirrored by a pair of virtual hands on the projection.
The user's interactions have a significant impact on how the experience unfolds. And instructors have control over any aspect of the experience and can swap the rules at any point to alter it.
"We can create special effects, such as have surfaces that ripple or change colour," Mr Wang said.
They can also change objects to give people without dementia the experience of being unable to distinguish between objects or fine detail, replicate poor motor skill and enhance or dull light and sounds.
When someone is standing in front of the projection, it occupies their peripheral vision as well as their centre vision because it is so large, he said.
"Because your senses are completely over-ridden, it is as if you're part of the virtual world rather than being an observer."
Alzheimer's Australia Vic is in the process of developing educational programs around the simulation tool and will be offering courses by the end of the year.
"The intention is to lead our course participants into thinking differently in their approach to caring," said Maree McCabe, CEO, Alzheimer's Australia Vic.
"We are committed to creating the better-skilled, quality aged and healthcare workforce we need for the future."
The new facility showcases dementia friendly design features with the intention of educating and calling for all workplaces, homes and public spaces to commit to becoming dementia friendly, she said.