[From Bdaily]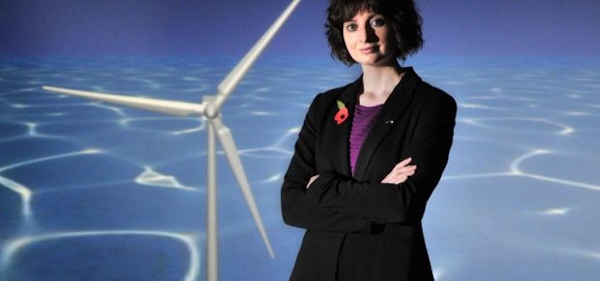 [Image: Emma-Jane Alexander, Coordinator at HIVE]
University to develop 3D virtual reality wind turbine
14 Nov 2012
Miranda Dobson
A virtual reality 3D "cave" created by the University of Hull has been commissioned to provide training for wind turbine engineers and green energy industries.
The Higher Education Funding Council has awarded £240,000 to the University to develop the training facility in the Hull Immersive Visual Environment (HIVE), which will be used to simulate the most extreme and hostile conditions that workers in the green power industry face.
Hull's scheme is part of a multimillion pound investment in the renewables sector, which has been led by the University's low carbon hub, CASS.
The University has worked on links with the industry to create initiatives like this one, with a view to develop commercial projects and create income by sharing knowledge and expertise.
HIVE Coordinator Emma-Jane Alexander commented: "The aim is to offer a training service to industry and wind farm engineers to equip people with skills and support continuing professional development in the sector with greatly reduced risks and costs."
The virtual "cave" will enclose workers and trainees in a restricted environment with screens on either side of them, in front, and below.
Ms Alexander explained further: "This virtual space allows us to simulate the journey to an offshore platform via specialist vessel for instance, or prepare people for the feeling of standing on top of a wind turbine in the open sea and experience what can be a very hostile environment.
"We will also be able to simulate the different weather conditions and sea states that engineers and transport operators will face."
The interactive training cave will be created by expert software designers who will work solely on the project, led by the University of Hull's research team for Simulation and Visualisation.
One part of the training facility will use a head mounted display to recreate the experience of being winched to and from a wind turbine by helicopter.
The University will also use the 3D cave to demonstrate to school children, and encourage interest in engineering careers, while work experience students will be able use the equipment to see what it is like to be a wind turbine engineer.
Professor Stephanie Haywood, director of CASS, said: "The project has real potential and over the course of two years we expect to further develop our range of industry partners. The work is genuinely innovative and is of real importance to the sector."