[From The Orlando Sentinel]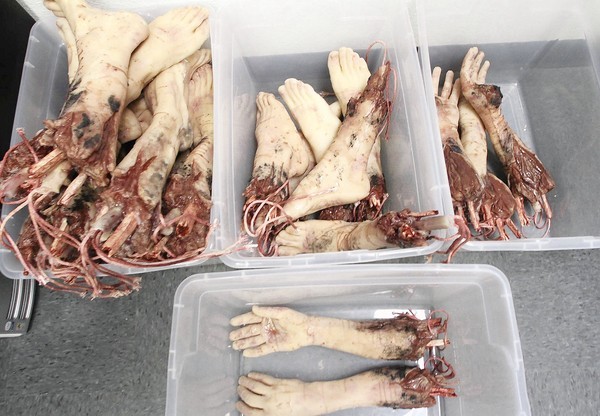 [Image: Recently-completed fake body parts wait in bins at Simetri, Inc. in Winter Park on Wednesday, September 26, 2012. Simetri creates "vitrual wounds" used in training combat medics in war games. (Stephen M. Dowell, Orlando Sentinel]
Simulated 'wounds' prepare combat medics for real thing
By Richard Burnett, Orlando Sentinel
October 4, 2012
Torn from a soldier's body by an improvised explosive device, the bloody, severed leg lay on the floor — a sight far too familiar for many of the Americans who have fought in wars during the past decade in Iraq and Afghanistan.
But this injury didn't take place during some faraway battle; it was a highly realistic simulation, created by an Orlando-area company to help train U.S. combat medics around the world.
From massive leg injuries to faux bullet holes, war-wound simulation has become "makeup science" for Simetri Inc., which has assembled a team of engineers and Hollywood special-effects artists at its headquarters just east of Winter Park.
"These are the most realistic items we've ever seen in the market," Simetri's founder Angela Salva said recently as she displayed the simulated bomb-damaged leg. "We've gone to military-training sites where they train the medics, we see what their needs are, we've collected all that data and integrated it into our work to come up with the right products for the Army."
Simetri received a boost in June when it landed a contract potentially worth $4.1 million to make simulated wounds for the Army. The company is making hundreds of its silicon-based objects for military bases in the U.S., Germany and South Korea.
Military trainers connect the lifelike human limbs and body wounds to devices that simulate blood flow, then attach them to mannequins or live actors for realistic battlefield exercises, the company said. Once a specific scenario is set up, combat medics are sent in to treat the "wounded."
Instructors have found that the realistic, blood-pulsing "props" help later to reduce the shock experienced by medics in the field and to improve their decision-making and treatment skills during the stress of actual combat, said Lt. Col. Wilson Ariza, medical-simulation manager for the Army's simulation-training contract agency in Orlando.
"Most scenarios emphasize the need to diagnose and stabilize a wounded soldier within the first 10 minutes after an injury," he said. "If the mannequin doesn't receive proper treatment, it replicates the symptoms of a real casualty, and its vital conditions rapidly deteriorate. Rapid treatment has been proven to have the greatest effect on a wounded soldier's chances of survival in combat."
The military has used simulated wounds for years in combat-medic training, noted Wayne Plucker, a defense-industry analyst with the consulting firm Frost & Sullivan. Plucker said he saw some of the early simulations firsthand when he was an Air Force bombing-unit officer in the mid-1990s.
"We'd stage aircraft crashes with casualties, for example, and those bloody props were especially effective in training triage and first-response efforts," he said. "At that time, the props could look pretty gory, though you could see it was just painted to look that way. I'm sure now they've come up with advances to make it much more realistic."
Such simulations must be realistic to command the full attention of the soldiers being trained, said Barry Anderson, Simetri's director of special-effects engineering and a former art director for Orlando-based Ripley's Entertainment Inc., known worldwide for its Believe It or Not museums.
"We've studied the disturbing images of war injuries as part of this job," he said. "And, believe me, you don't enjoy doing that, because you realize the kind of horrors that people suffer in war. But we have to study it to come up with the kind of hyper-realism that you see in our products."
When Salva formed Simetri earlier this year, Anderson joined along with nearly a half-dozen other people who had done the same type of work from 2008-10 for the Orlando-based unit of a California company, Virtual Reality Medical Center. VRMC closed its local unit in early 2010 amid declining orders and economic woes.
Simetri's work force has already tripled to more than 20 people since winning the Army contract and establishing its facility on Aloma Avenue east of Semoran Boulevard, said Salva, who was VRMC's Orlando manager before the local unit closed.
For the Army work, Simetri is a subcontractor for Moulage Sciences & Technology Inc., an Illinois company owned by VRMC's lead investors. "Moulage," a French word for molding or casting, also refers to the art of using faux injuries in trauma-care training; the Moulage investors still own VRMC, too, which specializes in developing medical uses for computer simulations, including treatment programs for soldiers suffering from post-traumatic stress disorder.
"The intent is for Simetri to be Moulage Sciences' research and development and production arm," Salva said. "It has been a great arrangement and has allowed us to employ some of the key people we had before at VRMC [in Orlando]. We expect it to become a long-term relationship."
Officials with Moulage Sciences say they expect "wound-simulation science" to remain a solid niche in the defense industry, despite the budget cuts that now loom over U.S. military spending.
"We believe this is a high-growth sector," said Brian Cairns, that company's president. "The efficacy of highly realistic moulage training is not only being documented, but we have heard firsthand how critical these training tools have been to preparing medics, soldiers and other first responders for responding to critical wounds."