[From The Times of Malta; more information including a 0:31 minute promotional video is available at http://www.malta5d.com/ and a 5:31 minute video on the making of the 5D film is available on YouTube]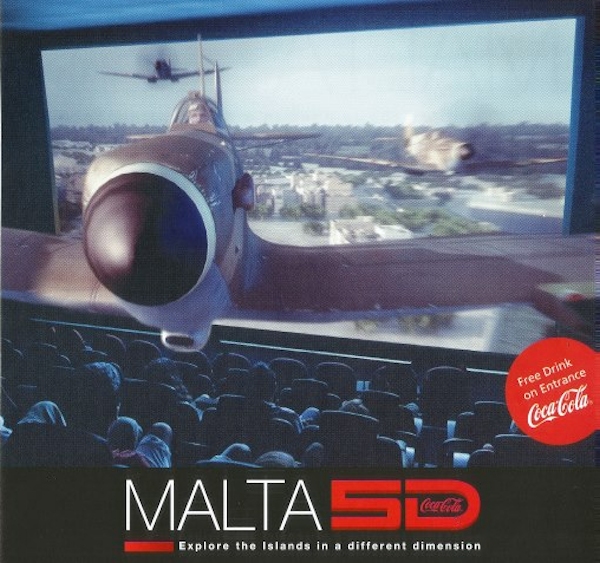 Experiencing Malta in virtual reality
Kim Dalli
Friday, September 28, 2012
A new attraction in Valletta offers an innovative and exciting way to experience the island's history.
Malta 5D combines 3D with new generation 5D cinema effects, allowing the audience full immersion into the world portrayed on screen.
The 5D motion chairs have features such as water spray, vibration and leg sweeping while the auditorium has equipment that simulates the environment projected on the screen, helping to blur the boundary between reality and fantasy.
The multilingual cinematic experience boasts some visually stunning shots. The figures depicted in Caravaggio's masterpiece The Beheading of Saint John the Baptist are thrust out of the canvas as you watch.
Viewers can follow a Maltese falcon as it flies through historic sites and landmark events that shaped Malta. The smell of humidity filling St Paul's Catacombs is substituted by the salty tang of the sea as the spectator soars over the waves.
Two major battles are recreated through visual effects.
The audience is plunged into the midst of the Great Siege of 1565 to experience the toil of battle and celebrate the victory of the Knights of Malta over the Ottoman Empire. The falcon then transports one to World War II to witness the moment when the Royal Opera House in Valletta was blasted to shreds and to feel the jolts of aircraft as they swoop over Valletta to drop their bombs.
Malta 5D is located in Old Bakery Street, corner with South Street. Admission rates are €8 for adults and €6 for children.
It will be open during Notte Bianca tomorrow at half price.