[From CBC, where the story includes a 1:43 video report; for more information about uGenius is available in an article in Fortune]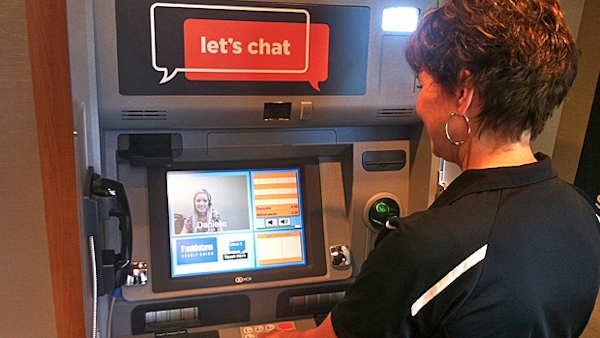 [Image: FirstOntario Credit Union in Ancaster is a bank with no tellers. (Kate Adach)]
Video banking makes robbery impossible
By Kate Adach, CBC News
Posted: Aug 27, 2012
How do you rob a bank that has no tellers?
"Oh, we have tellers," says Mary De Sousa, marketing leader of an innovative banking system that provides virtual bankers through a computer screen. She points to a machine. "That's our teller." The machine looks like any ATM, but once activated, a smiling woman appears on the screen and asks "how can I help you?"
The "teller" is a live bank employee ready to serve you from her desk another city over. These virtual banking services – known as "PAT" (personal assisted teller) technology – can be found across the Greater Hamilton Area in several FirstOntario Credit Union branches. The bank introduced the "chat with PAT" service in 2010. Now it's increasingly transitioning its format into virtual banking.
"They are super-human ATM machines," described James Lefebvre, director of business services for FirstOntario Credit Union, a Hamilton-based bank. "But it's not like you're looking at an animated person, you're actually looking at one of our frontline tellers."
FirstOntario's newest branch opened in Ancaster last Monday – the first such Credit Union in Ancaster and the first of their branches to open without any flesh and blood tellers at all.
Like Skyping with your banker
The latest Ancaster branch has one PAT kiosk and one regular bank machine. Its 1200 square feet are designed to feel like your average bank, only on a smaller scale.
During regular business hours the building is staffed with a receptionist, manager and financial consultants for more complicated banking, who have private offices in the back. But there are no people standing behind a counter.
Instead, for quick transactions, you can approach the PAT kiosk, scan your ID and interact with the teller over the video computer screen and phone system. It's a bit like using Skype — the video conferencing tool — with your banker.
"There's a human ability to respond," Lefebvre said. "They can read your emotions because they can see your face and you're seeing theirs."
Most of the PAT tellers who appear on the screen had worked behind counters at FirstOntario banks. Now they work out of a corporate office in Hamilton. There are about 5 to 12 "satellite" employees who rotate shifts. Introducing more PAT machines "is not about staff reduction it's about expanding our footprint," said De Sousa, FirstOntario's assistant vice-president of marketing.
The virtual tellers can be accessed after office hours, from 8 a.m. to 8 p.m. As the service gains popularity, the bank hopes to extend PAT tellers' availability into the wee hours.
Banking 2.0
The innovative system was developed by uGenius Technology, a Utah-based pioneer in video banking services. FirstOntario Credit Union is the first bank in Canada to invest in the system, De Sousa said. "It's in line with our growth strategies, she said. "And our goals of providing alternatives and access."
So the Hamilton-based bank decided to bring the video system across the border. Now management is "exploring options to put them in nontraditional spaces," Lefebvre said, like parks, malls or fair grounds. Ideally it would become a mobile technology as well, he said.
Although the system is pretty simple to use for those who are familiar with touchscreen technology, introducing PAT to less tech-savvy clients requires having flesh-and-blood staff on hand. Susan Hoag-Smith was the manager of the first branch to install a PAT machine in 2010. She watched bank patrons adapt to it.
"At first when they walk in they're a little nervous, they're not sure what it is," Hoag-Smith said. "But usually after the first or second time using it, they love it." Surprisingly, seniors took to it more than younger people, she said. Most clients were comfortable using regular ATM machines but the elderly patrons found the video system more familiar than a standard computer screen.
Elder patrons took to the PAT kiosks "because there's a real person behind it who can ensure they don't make any mistakes in their banking," she said. The relationship-building aspect is one of the technology's greatest selling features, Lefebvre said.
There's a "real person" on the screen who can do just about everything a typical teller can. But having a "satellite branch" means the teller is safe. Although robberies are not a problem at FirstOntario banks, PAT offers "a very big security piece for our employees," he said.