[From TwinCities.com]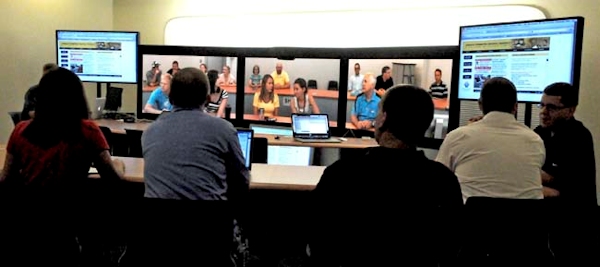 [Image: Anoka-Hennepin school district technical support staffers interact from Andover High School with teachers at Blaine High School on the large wall monitors in a telepresence technology presentation Aug. 23, 2012. (Pioneer Press: John Doman)]
Anoka-Hennepin 'telepresence' allows low-demand subjects to be offered
By Sarah Horner
horner@pioneerpress.com
8/26/2012
A handful of classrooms in Anoka-Hennepin high schools might appear equipped for surveillance rather than teaching to students returning from summer vacation next week.
Six giant flat-screens span the space where a podium might otherwise be, and long, semi-circular tables outfitted with built-in microphones stand in place of traditional desks. The rest of the space is empty, devoid of even a single poster on the walls.
They are Anoka-Hennepin's new "telepresence" classrooms, spaces designed to overcome the limits posed by location and resources within districts.
"It's exciting," said Jeff McGonigal, the associate superintendent of high schools. "This gives us all kinds of new opportunities in education."
The district's $1 million investment — $350,000 was also paid by software developer and manufacturer Cisco Systems Inc. — allows teachers and students inside a telepresence room to connect simultaneously with those in any or all of the other four now stationed at each of the district's high schools.
The connectivity is allowing the district to offer low-enrollment classes it may have been forced to cut in the past, such as advanced German and French classes.
"Oftentimes you have four students at one school sign up for a class and maybe eight at another and seven at another. … None of those numbers are enough to justify a section on their own but brought together in a tele-presence room we're able to offer it," McGonigal said.
One teacher will address the smattering of students enrolled in AP Psychology II at the various high schools, for example.
Depending on where the teacher is located, students will be greeted either by the instructor in person or via the big screen. Students also will be able to see and interact with one another.
Teachers can use the screens to display documents or their computer desktops. The rooms also have wireless Internet capabilities, and students will have access to laptops.
"It's kind of the ultimate in videoconferencing," said Tom Skoglund, the district's instructional technology facilitator. "Everything is designed so that you feel like you are actually in the remote location."
That's why each room is set up exactly the same, down to the wall colors, lighting and carpeting.
Even the tables are positioned to feel as though they reach through the screens and connect with the tables in the other locations.
Businesses and post-secondary schools already use the technology, but it's still relatively new in K-12 settings, Skoglund said.
So far, only the Itasca Area Schools Collaborative and Anoka-Hennepin have tele-presence classrooms in place in Minnesota.
As the technology spreads, students will be able to connect with schools across the state or even the world, Skoglund said. They'll also be able to take a lot more field trips.
"I think the future of education will be classrooms going places," McGonigal said. "Instead of students looking at a picture of Paris, they'll actually visit a place in Paris."
For teacher Eric Beckman, the opportunities come with challenges. Test-taking and classroom management, for example, will be difficult to oversee remotely, Beckman said.
To compensate, Beckman said, he won't hand out tests and will instead expect his students to do a lot more writing or share what they know via online chats with other students.
The experience will expose students to a new way of sharing and gathering information that eventually will become commonplace in businesses and secondary schools.
"There is a skill set involved in this kind of communicating. … Like reading and writing, this is another process students need to learn and get comfortable with," he said.
—
Sarah Horner can be reached at 651-228-5539. Follow her at twitter.com/hornsarah.