[From Philly Tapped (see  pp. 89-94); thanks to Liudi Wang]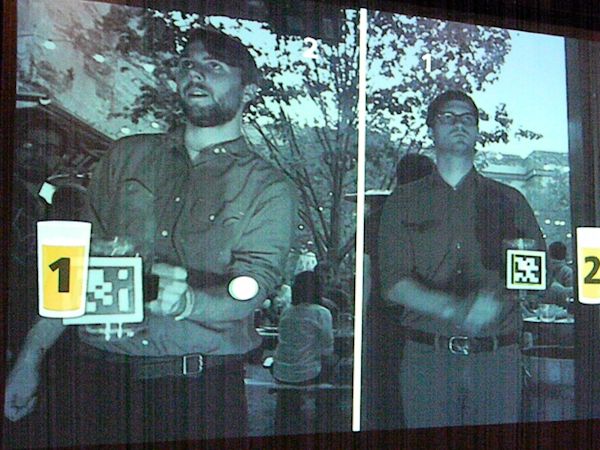 [Image: Eric Welch and Kyle Stetz square off at "Beer Pong"]
Beer Goggles
Philadelphia Science Festival
By Brendan Clay
April 30, 2012
[snip]
This is the second year that Yards [Brewing Company] has released a beer for the Science Festival, a 10-day celebration of science and innovation held at locations all over Philadelphia.
[snip]
Besides debuting Atom Blonde, the Science Fair mixer hosts exhibits and tech demos. The big hit of the night is "Beer Pong," which is not the college drinking game, but a variation of the videogame Pong played with beer mugs as paddles.
Eric Welch, Kyle Stetz, and Brian Kelly, who work in The Franklin Institute's prototype lab, designed the game for the festival. "We're using glyphs," says Stetz, pointing to the placard attached to his mug. It displays a random-looking pixelated symbol enclosed in a square. "So these are markers that a computer can track with a camera."
To begin the game, two players stand in front of a digital camera and clink their glasses together. Their images are projected twice as large as life onto a screen in front of them, but their mugs have been transformed into Pong paddles with a white ball bouncing between them. From there on, "Beer Pong" plays just like the classic Atari game.
"We really wanted to show off the technology of glyph tracking," says Kelly, "and what glyph tracking can do and how it can make fun experiences."
[snip to end]