[A press release from EarthCam via PRWeb; the release includes additional images and a 5:43 minute video]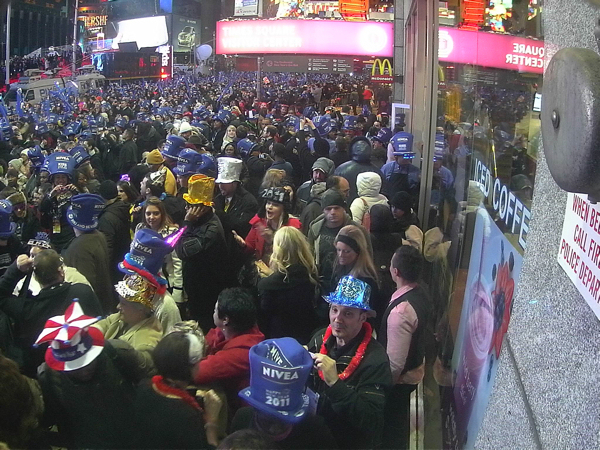 [Image: EarthCam's street-level webcam, located at 46th and Broadway, puts viewers face-to-face with the crowd.]
EarthCam Welcomes 2012 with a 3D New Year's Eve Webcast Live from Times Square
Broadcast for web and mobile from over 50 locations worldwide.
New York, NY (PRWEB) December 28, 2011
Once again, EarthCam will be the exclusive provider of the live 3D feeds from Times Square and will serve as host to the world as it presents its 16th annual webcast of the New Year's Eve celebrations from over 50 locations around the globe.
EarthCam is proud to deliver exclusive views of this famous party from the heart of New York City. An estimated one million people flock to Times Square every year to watch as the New Year's Eve Ball descends, and over the years millions more have watched on EarthCam.com. Since the EarthCam cameras are webcasting 24/7 every day of the year, viewers can drop in on Times Square long after the confetti has fallen to watch time-lapse video from the event and enjoy live views.
EarthCam will offer three 3D webcams, delivering a truly unique viewing experience. A special birds-eye view webcam allows visitors to watch as the massive crowds gather at the Crossroads of the World and showcases a perfect view of the famous New Year's Eve Ball. The other two 3D cams will be mobile, and will travel through the crowds in order to capture all the energy and best moments of the night. Visitors to EarthCam's website will be able to enjoy the excitement from several angles. Multiple HD webcams are located throughout Times Square, featuring all the sights and sounds of the city. To see highlights from the 2011 3D webcast, visit http://www.earthcam.com/nye3D2011.
Visitors will be able to ring in 2012 from some of EarthCam's most popular tourism cameras in the US and internationally. A streaming video tour of the parties in New Orleans, Las Vegas, Miami and more captures the festivities in the U.S. Viewers can also join parties around the world and enjoy the celebrations in real-time from Amsterdam, Hamburg, Sao Paulo, Montreal, Tokyo and many others.
The live video feeds and event updates will be posted on EarthCam's Facebook and Twitter pages, giving fans another way to connect and see all the fun in Times Square. One of EarthCam's most popular webcams will also be simultaneously streamed on Ustream, enabling viewers to embed the feed on their own website.
Viewers can also celebrate New Year's Eve on-the-go with EarthCam's exclusive New Year's application for Apple devices. Users will see views from the live streaming cameras, allowing them to bring the sounds of Times Square with them wherever they go. The app also offers a virtual countdown clock to track the minutes until midnight in each city. Another cool feature of this app is the ability to ring in the New Year by turning your iPhone into a New Year's party noise maker, with special sound effects including horns, cheers and the classic Auld Lang Syne.
ABOUT EARTHCAM
EarthCam is the global leader in webcam content, technology and services. Founded in 1996, EarthCam provides live streaming video and time-lapse cameras, along with complete managed services for consumers and corporate clients in more than 1,500 cities throughout all 50 states and 46 countries. The company's expertise includes developing technology to manage camera networks and delivering millions of images daily to 192 countries. EarthCam has maintained live webcams from Times Square since 1996, including annual webcasts of the Thanksgiving Day Parade and New Year's Eve celebrations. Most recently, EarthCam installed 5 webcams on the torch of the Statue of Liberty, providing unprecedented views of Lady Liberty and the surrounding New York Harbor.
To experience New Year's Eve in Times Square, visit: http://www.earthcam.com/newyears.
Contact:
Lauren Sampson
EarthCam, Inc.
201-488-1111 1018
Email