[From Cisco's The Network]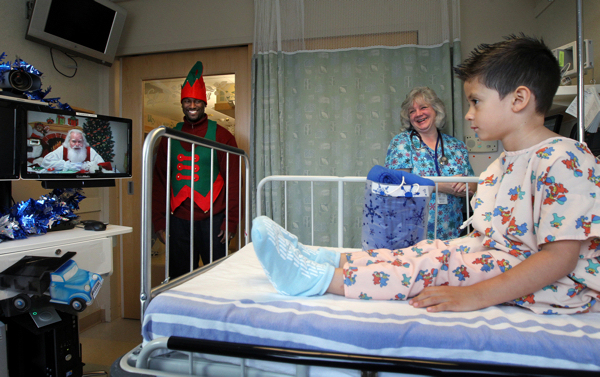 [Image from The News Tribune in Tacoma, Washington: "Santa's Video Conference Call to Mary Bridge Children's Hospital Santa Claus says "Hello from the North Pole" to Jason Pratt, 4, via a video conference at Mary Bridge Children's Hospital, December 13, 2011. In reality Santa was holed up in a hospital conference room. Ryan Mathus, left, a systems engineer with Cisco Systems Inc., was a member of the team that wheeled the portable video-link setup into young patients' rooms who would have had difficulty being transported from their rooms to visit Santa. Registered nurse Shannon Jackson is at right.(Janet Jensen/Staff photographer)]
Cisco Employees Feed Mouths – and Spirits – Around the World
Santa goes high-tech – aided by magic
December 21, 2011
Through the "Connected Santa" program, employees in England, Ireland, Scotland, Wales, Canada and the U.S. bring Santa Claus – and in Mexico, the Magic Kings – to hospitalized children via video using Cisco technologies including WebEx, Ciustablet, and TelePresence. The program connects technology to traditions and wide-eyed children.
"Our patients were very excited about the Connected Santa visit," said Angela Gibbons, of Specialist Play Services, Birmingham Children's Hospital, in Birmingham, England. "The Cisco employee volunteers interacted fantastically with the patients and their families." In all, Santa visited 800 children via Cisco TelePresence, in 11 hospitals in the UK and Ireland. See the heart-warming article and photo from Western Health and Social Care Trust, Northern Ireland. More photos
Beamed from Cisco's Toronto and Ottawa offices, which were transformed into North Poles, Santa visited children at hospitals in Halifax, Ottawa, and the Ronald McDonald House in Vancouver. In Vancouver, seven-year-old Rene delighted in talking to Santa. See Video.
In Mexico, the Magic Kings – also known as the Magi, Wise Men, and Kings from the East – visited children in six public hospitals via WebEx from a room decked in a Far East motif. Employees in Lebanon provided costumes for the Kings. In partnership with NGOs ANSER and ILUMINA, employees collected 400 toys, which the Kings, volunteers, and Cisco's Mexico country manager will deliver to the children in January.
For more information on Cisco's community initatives, check out Cisco's Corporate Social Responsibility website.
What are you doing to give back? Please leave a comment here. Happy Holidays!