[From the web site of Latitude]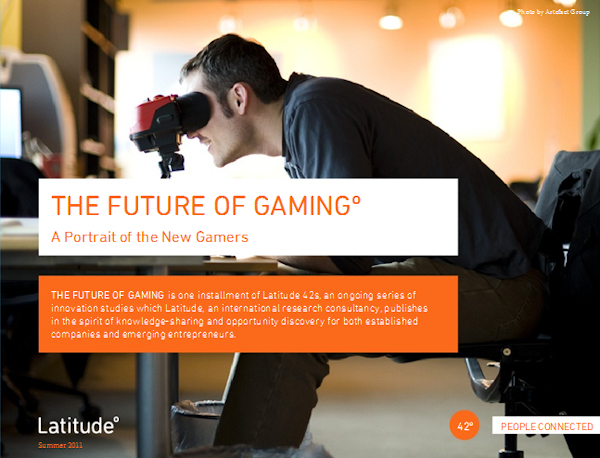 The Future of Gaming: a Portrait of the New Gamers
By Kadley Gosselin August 23, 2011
In the spring of 2011, Latitude Research launched a study to understand the recent explosion in gaming, driven in part by the popularity of mobile phones and tablets. Specifically, the study sought to uncover how the profile of the stereotypical gamer has changed, various motivations for gaming, and the evolving role of games in moving traditionally online experiences into the "offline" world—suggesting new opportunities for game and technology developers, educators, and social innovators.
As one study participant noted:
Games have previously been denigrated as socially isolating, with the stereotypical, petulant and portly adult playing a viscerally violent game in his parents' basement: the quintessential 'gamer' image that has existed for many years in popular culture. With grandparents now playing Wii Tennis and my cousins in Australia and Canada playing Xbox Live with each other, games are fulfilling [a much more social role] than they were a decade ago.
The study offers 3 key insights into the evolution of gaming (explained in more detail below):
Games go beyond the screen
Life becomes play
Social matures into societal
The study included a Web survey amongst 290 smartphone owners between the ages of 15-54 who self-identified as at least "casual gamers," with nearly half labeling themselves "game enthusiasts."* The survey assessed technology usage and future orientation, attitudes and behaviors around gaming, and possible interest areas for new game experiences.
Who are the New Gamers?
The infographic below offers a snapshot of the emerging gamer: he or she is not bound by platform or location, and has many different motivations for gaming in addition to just having fun.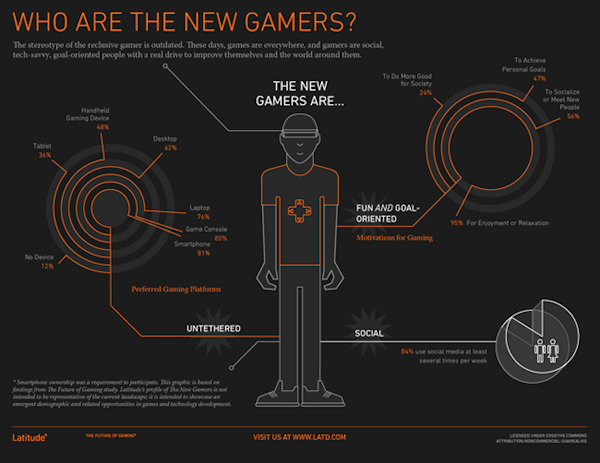 To view a larger version, click here. Infographic created by Latitude in collaboration with ffunction, (cc) some rights reserved.
A Video Portrait of the New Gamers
Latitude also conducted a series of in-depth interviews with game makers and gaming enthusiasts, culminating in the production of a video documentary: The Future of Gaming: A Portrait of the New Gamers, featuring Buster Benson, CEO of Health Month (currently, Co-founder/CTO at Habit Labs).
The Future of Gaming: a Portrait of the New Gamers [8:52 minutes] from latddotcom on Vimeo.
Video created by Latitude in collaboration with In The Car Media, (cc) some rights reserved.
In addition to investigating tomorrow's gamers, the study pinpointed three key insights for the future of gaming:
Games go beyond the screen
While mobile devices have had a huge impact bringing games into offline life, true seamless integration will come through technologies like The Internet of Things and augmented reality. These technologies get beyond smartphone screens, foregrounding the experience in a way that makes the device itself seem, more or less, invisible. Study participants expressed an overwhelming desire for immersive integration of digital content with traditionally offline spaces and activities:
* 95% would like to see more games that do a better job of combining digital content with the real, physical world.
* 90% agreed that current and future technologies will play a critical role in extending games beyond the traditional screen environment, moving them out into the real world.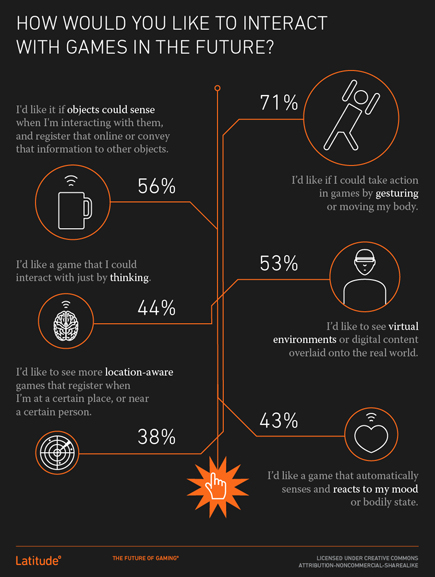 To view a larger version, click here. Infographic created by Latitude in collaboration with ffunction, (cc) some rights reserved.
"The gamers of tomorrow won't be limited by platform or location. As technology becomes more seamlessly integrated with our lives, everyone will be a gamer, and the world around us will become the ultimate playing field," explains Natalie Stehfest, a senior research analyst who led the study and who heads up Latitude's qualitative research team. "Technology will allow us to measure—and, ultimately, improve—ourselves in the context of our daily activities and surroundings. Many people making small changes can have a large impact in society, and this study suggests that the new gamers are ready to 'level-up,' and be challenged in this way."
Life becomes play
Not only did participants want games to be well-integrated with the offline world in a technological sense, they requested games that better fit into the context of their everyday life activities and which motivate them to do things they want or need to do anyways. Currently, a variety of "life games" exist, including ones that that motivate people to eat healthy and work out, learn science and complete household chores.
* 92% would like to use more "life games" (e.g., games that fit into the context of daily life routines)
* More than 2/3 would like games to help them achieve their personal goals (e.g. be healthier, more productive, etc.)
Social matures into societal
The social aspect of gaming makes it particularly well-suited to tackling larger societal issues, as people can now connect easily around meaningful, shared experiences in real-time. Obstacles related to engagement, crowdsourcing, and logistics are removed as mobile platforms make it easier to become an engaged community member or to get involved with socially good causes in a way that feels game-like, either overtly or in a broader, "social adventure" sense.
* 96% would like to see more games geared toward creating positive change in society over the next 5-10 years. (Only one-quarter have played games like this before.)
* 3 in 4 people would be more interested in getting to know their neighbors and the people in their communities if local meet-ups were designed to be more game-like (e.g., involving neighborhood "teams," scavenger hunts, etc.).
"You'll be able to use gaming to create a social network that could influence our world for the greater good—and that's something that already exists to some extent," explained Michael Critz, an interviewee in Latitude's The Future of Gaming video documentary.
Special Acknowledgments
Latitude would like to thank The Future of Gaming video documentary interviewees:
Lead Researcher: Natalie Stehfest
Video Director: Dan Hemmerly-Brown
*Note: Smartphone ownership was a criterion for survey participation, but engagement with mobile games was not. See infographic above for gaming platforms preferred by participants.
—
Latitude is an international research consultancy helping clients create engaging content, software and technology that harness the possibilities of the Web. To learn more about working with Latitude, fill out this form or contact Ian Schulte (ischulte@latd.com).