[From Humans Invent, where the story includes additional images]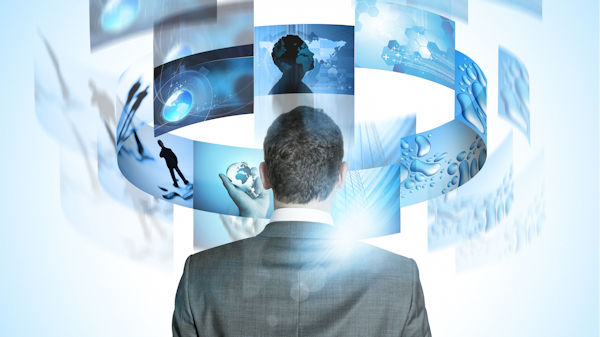 You're fired: How gaming killed the boardroom
By Ben Sillis
15th August 2011
Need to get someone out to New York for a crucial business meeting next week? It'll cost you. At a week's notice, a business class return trip on British Airways from Heathrow to JFK International will set your company back upwards of £3,800.
As stock markets plunge, and the wait for this "bounce back" continues, that's money few can afford – but you can't put a value on being in the same room as a potential client.
Unless of course, you opt for the cheaper solution: a £200 little black box and camera accessory, that you can use again and again. In love with the in-flight perks? They may soon be no more: read on and discover how the humble Xbox Kinect has given the meeting room its P45.
Economics of chat
Any businessman worth his salt will tell you that a phone call is no substitute for a face to face meeting. Too many subtleties are lost, you can't convey the same confidence, nothing can be underlined with gestures.
To solve this, companies have in recent years turned to video conferencing solutions: everything from Skype chats to huge installations the size of a room. The latter are impressive set ups, near holographic in nature, sold on huge scales by tech giants such as Cisco.
Halo, one enterprise solution, can put you in the same room as people in three other locations simultaneously, and even have participants join the chat from their smartphone's front-facing camera. It's employed by companies all over the world, including Nokia, to cut down on travel costs and make collaboration easier. You can see one in action below:
Video: Introducing HP Halo 65: HP's newest visual collaboration tool [5:10]
It's big money: in June, HP sold it to Polycom for $89million (£54million). And that's the thing: it's for big business. "It's hugely expensive and the sort of thing for which you need a dedicated team, which many people will not have," says Guy Clapperton, the editor of the Unified Communications Bulletin.
Smaller companies and start-ups are left without bespoke solutions, or worse, forking out for those airline tickets – and having to brace themselves for grumbling employees when they find themselves flying economy.
But there's an unlikely solution to all this: the lowly games console.
Lynced: A new beginning
In November 17, 2010, New York City. Microsoft is launching its new version of Microsoft Office Communicator, now called Lync. Billed as an alternative to traditional PBX (private branch exchange) systems, Microsoft employees reveal with much fanfare how it integrates with the Microsoft Office suite of applications, and allows for high-definition video conferencing using nothing more than regular USB webcams – Bill Gates even drops by via his office in Seattle, on the other side of the country.
To the audience' surprise however, Microsoft also reveals how Kinect, the motion-sensor accessory for the popular Xbox 360 games console, will eventually integrate with Lync. Gurdeep Singh Pall, Microsoft's corporate vice president for the Office Lync & Speech Group demonstrates how simply by waving, it's possible to log in and chat with your colleagues using Lync on PCs.
"We're very happy to bridge the Kinect network, the Windows Live network, the Lync enterprises, Lync Online together to form a really rich, federated network for rich communications," he said.
Microsoft's ambitions for the board room stretch even beyond that however. The Redmond, Washington company added another network to that long list earlier this year when it snapped up the leader in online video chat, Skype, for a whopping $8.5 billion (£5.2bn): it says it plans to add Skype chat to Kinect in the future, and integrate with Microsoft's core enterprise services, Outlook and Lync.
But what's the reason for Kinect's crossover appeal? What makes it more than a webcam for the living room?
The tech behind it
The secret sauce behind Kinect are the sensors inside it, other than the VGA resolution (640×480) camera. It's capable of voice recognition (so you can tell it to turn applications on or off), and more importantly, measuring depth, so it can tell how far away a person is – and track and focus the camera accordingly, tracking up to twenty different points on two people simultaneously. It's far more sophisticated than a traditional webcam, says Kinectaku.com news editor James Newton.
"Its four room microphones make it easy to conference call with multiple people in the same room and it automatically zooms in and out to fit everyone in the frame, which is all quite clever," he says. "It's engineered for big spaces: the four microphones work well together and as it's motorised it can track you around the room."
It's how gamers can now steer cars without a controller, play tennis with their hands, and tell their Xbox to change tracks when a song they hate pops up on Last.fm.
As such, Kinect's potential doesn't stop at cheap, effective video chat for the masses. Microsoft is already using it in place of a physical remote control, so staff can move through PowerPoint presentations with a wave of their hand.
This forward-thinking has also been adopted by inventor Johnny Chung Lee who has created a low-cost multi-point interactive whiteboard using a Nintendo Wii remote controller. The Wiimote tracks infa-red light, and therefore will follow pens with infa-red led in the tip, creating a low cost whiteboard or tablet display.
Video: Low-Cost Multi-touch Whiteboard using the Wiimote [4:05]
And a group of researchers at MIT in Boston have hacked the device to show what it's capable of when it comes to communication.
Video: Kinected Conference [2:56]
The results are stunning: as you can see in the clip above, Kinect can transcend traditional video conferencing by adjusting focus to the person who's talking, and measure how long each person is talking for with stop clocks floating above each participant. It can even provide a form of video mute, so it looks like you're listening, but actually cheekily replying to a text message on the sly.
Anthony DeVincenzi from the project thinks it's these features, not image quality, which makes Kinect revolutionary when it comes to video chat 2.0. "More and more we experience companies pushing high resolution  display, 4k real-time data streams, and the like as the future of telepresence. If you talk to consumers you find that there's not a burning desire for 'higher resolution' video imaging. We think the missing pieces are much more subtle, and have to do with enhancing the methods with which people interact over distances," he says.
This is only an example created by a handful of clever academics, and there's no word on when Microsoft may unlock such potential for public use. But it might not be so hard. "We didn't actually modify the Kinect hardware at all," says DeVencenzi. "Everything we achieved was done so using the community developed OpenKinect library."
But Microsoft is already moving to provide its own unique take on video conferencing via Avatar Kinect, a new service released for the Xbox 360 last month.
Video: Avatar Kinect | XBOX 360 [1:13]
Instead of relying on a live video feed, it uses the Kinect's imaging tech to map your facial expressions and gestures to a cartoon character, or "avatar", and chat with up to seven other people in 24 different themed stages.
While these themes are clearly catering for the family gaming crowd (beach, TV chat show), Microsoft thinks Avatar Kinect is the first step towards invading business for the little motion sensor that could. In fact, Microsoft's chief research and strategy officer Craig Mundie says it has the potential to make video conferencing far less awkward, because of the angles involved.
"The camera tracks you as you move around. So, you're now sitting some significant distance away from the screen. So, many of the problems that you have with traditional sort of PC-based videoconferencing, where when you're so close the angular displacement of the camera from where your gaze is gives you that very weird sensation. When you're far back, that angle becomes just a couple of degrees, and the gaze problem is sort of automatically corrected," he said at the Microsoft Research Faculty Summit last month.
Avatar Kinect opens up all sorts of other interesting avenues for business too: the ability to replay a conversation back from every angle while studying participants' every tic could prove to be a vital resource for everyone psychologists to customer service reps.
How the console is taking over commerce
It's not just the business meeting that Kinect could kill off – or make more seamless, depending on how you look at it. The motion sensing peripheral could change retail transactions too, and even end the wait for the fitting room.
There have been experiments with merging the real world presence of high street stores and the convenience of online shopping before. Last year, the University of Teeside's OnLand retail park opened for business in the Blue Mars Virtual World. The premise is that shoppers and merchants can actually see 3D representations of the items they're buying, something that's crucial in areas such as manufacturing.
Kinect can go one step further though, by bringing this to consumers everywhere. Already, high street giant Topshop has trialled the use of Kinect to let customers see what clothes might look like on them – without having to queue for the changing room.
It's not alone. Me_tail is a start-up that allows shoppers to try on clothes through a 3D representation of themselves, created by uploading just two images of themselves. One of the founders, Duncan Robertson, actually worked on the technology inside Kinect as a graduate in Cambridge, and the company's CEO, Tom Adeyoola, thinks it'll be a useful enabler when the service launches later this year.
"Certainly our goal is that within five years, it will be the norm to have your own full 3D version of yourself to use in a shopping environment, whether online or in the store," he says. "For us, Kinect is a piece of technology, it's a replacement for the photography input device – it's another input device."
Kinects instead of board rooms, Kinects instead of shops. Does that all sound far fetched? Consider this: Microsoft sold a million Kinects in just ten days, and in March this year, passed the 10million mark. More than 40million Xbox 360 consoles have been sold online too.
Kinect could undercut entire industries, and it will, says DeVincenzi. "It will absolutely become commonplace in a few or more years…The miniaturization of the sensor is obviously vital to it becoming ubiquitous across our device ecosystems, but it's bound to happen. The result will be something amazing, and it will have to do with more than just video."
DeVincenzi's not wrong: Kinect's scale of production brings machine vision technology to the mass market like nothing before, and it paves the way for the future of computing (and business): natural user interfaces. No keyboards, no mice – you are the input.
It's the sort of thing that powers futuristic installations like this Minority Report style set-up, on show at a Ford event in London earlier this year:
Video: Amazing demo of real-life Minority Report screen [2:12]
And Microsoft has big plans for it. The home. The office. The shop. The bus stop. If we're the computer, then the computer is everywhere.
"Now we realise that giving a computer vision really means giving it a lot more capability to not just see the image, but to understand the image," says Mundie.
"We find ourselves at the point of what I think might be one of the biggest evolutional shifts in computing ever, where we move the computer interface from being something that we drive to something that's more like us."