[A press release from Sharp; a 1:24 minute video is available here]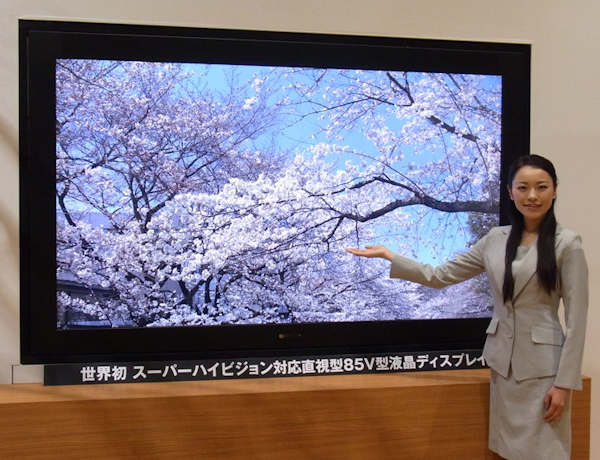 Sharp and NHK Successfully Develop 85-Inch Direct-View LCD
Compatible with Super Hi-Vision, a World First*1
NHK (Japan Broadcasting Corporation) (Shibuya Ward, Tokyo; President: Masayuki Matsumoto) and Sharp Corporation (Abeno Ward, Osaka; President: Mikio Katayama) have jointly developed an 85-inch LCD compatible with Super Hi-Vision, a next-generation television broadcast format. This is a world first for a direct-view display.
NHK began R&D into Super Hi-Vision, which has dramatically higher resolution than current HDTV, in 1995 and aims to begin trial broadcasts in 2020. With approximately 33 megapixels (7,680 [H] x 4,320 [V] pixels), or 16 times the resolution of HDTV, Super Hi-Vision will offer powerful, life-like image reproduction.
Under the joint development, Sharp's UV2A*2 LCD technology was used to create for the first time in the world a direct-view LCD compatible with the unprecedentedly high display performance of Super Hi-Vision. The combination of the Sharp technology and NHK's expertise and know-how in Super Hi-Vision will make possible ultra-detailed, super-high-quality images. The incredibly detailed images on the giant screen will immerse the viewer in a virtual-reality-like experience.
This LCD will be shown to the public at NHK's Science & Technology Research Laboratories in Tokyo from May 26 to 29, 2011
Super Hi-Vision-Compatible LCD
Screen size: 85 inches (approx. 1.9 x 1.05 m)
Pixel count: 7,680 (H) x 4,320 (V) pixels
Brightness: 300 cd/m2
Gradation: 10 bits for each RGB color
*1–As of May 19, 2011, for direct-view displays compatible with Super Hi-Vision.
*2–UV2A: Ultraviolet induced multi-domain Vertical Alignment. A photo-alignment technology for precisely controlling the alignment of liquid crystal molecules in a simple LCD panel structure.