[From ConnectedAustralia.com]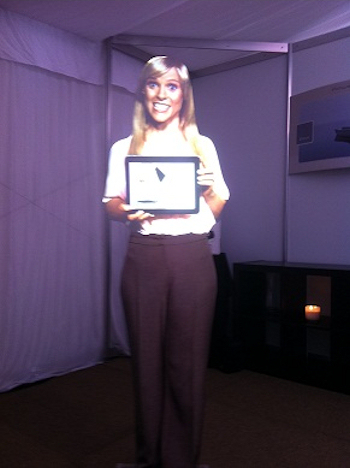 Harvey Norman employs 'V', a virtual salesperson
By Lorna Brett
Posted on: April 11, 2011
One Harvey Norman store in every state has welcomed a new staff member to its team this week; Rowenta's affectionately nicknamed "V" salesperson, otherwise known as Spyeglass' Virtual Presenter.
Present at Rowenta's 'Experiential Lounge Room' in Sydney last week, 'V', a woman holding an iPad while talking about vacuums in Rowenta's new range, was doing a job normally reserved for a living, breathing salesperson.
'V' (pictured) is an innovation from Spyeglass, a large distributor of 3M and Plexiglas projection screens, films, digital signage software and touch screens. Spyeglass allows companies to create their own virtual mannequin for use in retail stores and company demonstrations. A video of a salesperson is recorded and an acrylic cut-out is created using the outline of their form.
Next, a piece of Vikuiti Rear Projection Film is applied to the upper body, while a printed vinyl graphic is used for the lower body. A projector is placed behind the cut-out, and connected to a computer or DVD player which shows the video on the screen. Directional hidden speakers play the sound, resulting in a life-like video representation of a salesperson.
Groupe Seb brand manager – floorcare Elodie Bois told www.connectedaustralia.com 'V' was going to become a regular Rowenta salesperson at one Harvey Norman store in each state – and she's in high demand.
"We showed her to Harvey Norman last night, and they were all fighting over which store would get to have her first. They'll be rotating her between stores in each state, that's how excited they all were about her," Bois said.
"'V' creates interest in consumers that pass by her. If we were just showing a demonstration of Rowenta products on a TV screen most consumers would just walk past, but when she's in the store consumers stop and take notice," she added.
See a demonstration of how Sypeglass' virtual mannequin's work here.