[From Investor's Business Daily]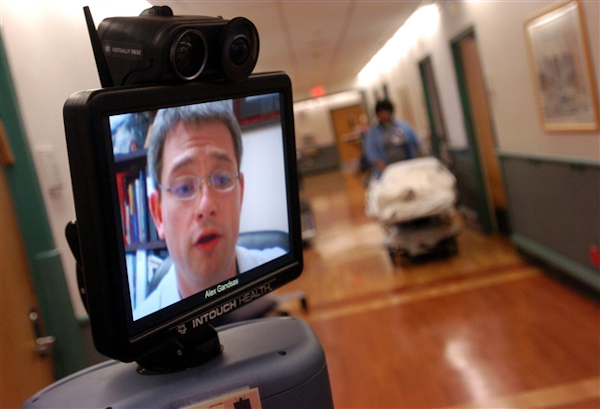 [Image: InTouchHealth's flat-panel screens, the "heads" of its robots, let off-site professionals see and treat patients. AP]
The Virtual Doctor Is In: Robots In Hospitals
By Paul Korzeniowski, FOR Investor's Business Daily
Posted 03/29/2011
At Ocean Beach Hospital in Ilwaco, Wash., when arriving patients show signs of a stroke, a key member of their medical team is … a tall flat-panel screen.
Actually, the screen is attached atop a 6-foot device, a robot that functions mostly as a mobile videoconferencing system.
Telemedicine is moving into the telepresence-robot era, with devices that roll on wheels and are controlled remotely, so hospitals can contact stroke, or other, specialists based hundreds or thousands of miles away.
In the case of Ocean Beach Hospital, the system connects its stroke patients to stroke experts located at the Providence Health System in Portland, Ore., 115 miles away.
The doctor in Portland can manipulate the robot and can talk to the team in Washington, speak with and be seen by the patient, and even take some of the patient's vital signs if need be.
The "telepresence robot" is equipped with a digital video camera and microphones that transmit images and sound over wireless network connections.
The robot carries a stethoscope, can display CT scan results and can perform other tasks to help provide the proper diagnosis and treatment.
"With medicine becoming more complex, costs rising and budgets under pressure, health care providers want their doctors to treat as many patients as possible," said Michael Chan, executive vice president of sales and marketing at InTouch Health, the Santa Barbara, Calif.-based provider of the telepresence robot (the product is the RP-7, for Remote Presence) used by Ocean Beach Hospital, Providence Health System and other health care providers.
Privately held InTouch doesn't release its financials, but it says it's the largest company in the fledgling field of telepresence robots used in health care.
The use of such robots, and use of videoconferencing systems and other telemedicine systems, is on the rise and already quite popular in some remote locations, says Jon Linkous, CEO of the American Telemedicine Association trade group.
The telepresence robots widen the net of hospitals that can tap into various experts, and give medical professionals unlimited reach, he says.
The video exchanges, he says, are more effective interactions than phone calls or e-mails. And in a situation like a stroke, where every second counts, the technology can save valuable time. If the needed specialist isn't on-site, telepresence provides another option.
That is, it can provide another option if available. There are still few such systems out there in this just-emerging specialty. InTouch says it's deployed "a few hundred" systems so far.
There are few other makers. Privately held Anybots is one other. IRobot (IRBT), which focuses on robots for consumers, such as its Roomba vacuum-cleaner robot and Scooba floor-cleaning robot, also is eyeing the health care robotics field.
Some big tech companies make videoconferencing, or telepresence, systems for business customers, including Cisco Systems (CSCO), Hewlett-Packard (HPQ) and Polycom (PLCM). They've all "kicked the tires" in the medical telepresence field, says ATA's Linkous "but (the market) doesn't offer enough volume for them."
With supply low, prices remain high, ranging from $10,000 to $50,000, depending on the level of sophistication. Vendors have offset the initial cost by leasing the devices to hospitals.
There also are some legal issues. Doctors are licensed to practice in each state, so they need to get certified in any state in which they work, even if working remotely.
Meanwhile, other uses of telepresence or remote presence robots are emerging that could help spur acceptance of the technology. The U.S. military has been testing these devices to help wounded soldiers in the battlefield. The home health care field also is testing the technology.
So, while most individuals haven't yet been treated by a virtual doctor, that soon might be just what the "real" doctor ordered.