[A press release from Novint; more detailed information, including a 7:00 minute video, is available from Nonpolynomial Labs]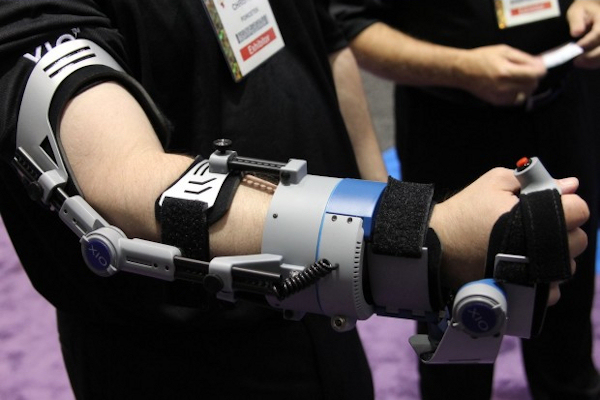 Novint Technologies and ForceTek Enterprises Merge
ForceTek Brings Capital and Stunning New Exoskeleton Technology,
Giving Motion Control a Sense of Touch
(Albuquerque, NM – April 6, 2011) – Novint Technologies, Inc. (OTCBB: NVNT) today announced the completion of Novint's merger with ForceTek Enterprises, LLC. Novint will be combining ForceTek's XIO exoskeleton controller with Novint's high fidelity 3D touch technology to create the world's first consumer 3D touch exoskeleton device. Users will wear the XIO exoskeleton on their arm, and XIO itself will create forces for games, such as the impact of a golf club against a golf ball in a full body swing, the recoil of a gun, or the impact of a sword striking a shield. It will create an immersive and realistic consumer experience that has never before been possible.
"The most exciting new area in the enormous videogame industry is motion control, such as Sony's Move, Nintendo's Wii, and Microsoft's Kinect. With each of these peripherals a user is able to control the game using his or her body rather than older style hand controllers. Those technologies do not allow a gamer to feel what is in the game. Much like our Falcon has already shown, the new combination of the XIO controller with high fidelity 3D touch will solve the issue of that critical missing piece, letting a user feel every immersive detail in a game with high-precision, lag-free control, in an exciting new form factor," said Tom Anderson, CEO. "The merger also brings us fresh working capital, cleans up our convertible debt and adds to our management capability. This is truly the marriage of two revolutionary technologies which will redefine gaming and many other fields."
"Novint's expertise in the 3D touch space was the perfect complement to our exoskeleton technology," said Ryan Christoff, President of ForceTek. "Beyond the synergy in the technology itself, the businesses and personalities were a perfect match."
Details of the merger may be seen on the company's 8K filing.
About Novint Technologies, Inc.
Novint (OTC BB:NVNT.OB – News) develops, markets, and licenses technology that adds high-fidelity interactive 3D touch to computing. For more information visit: http://www.novint.com/.