[From ABI Research]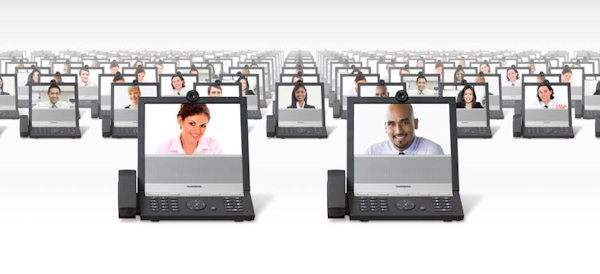 Telepresence Market Gains Momentum; Diversifying Applications Will Drive Growth
NEW YORK – February 16, 2011
Latest global telepresence and videoconferencing equipment market forecasts from ABI Research show that the value of the telepresence, video infrastructure and endpoints market is set to reach $5.5 billion by 2016. In 2010, the market registered greater than 15% year-on-year growth to reach $2.3 billion. During the year, the spotlight shifted to emerging applications such as desktop video, personal telepresence, video integrated within unified communications environments, mobile videoconferencing, and video-over-virtual-desktop infrastructure (VDI).
At the higher end of the telepresence spectrum, the telepresence experience is becoming more immersive with the integration of hologram and 3D technologies. At the lower end, the emergence of personal telepresence products will make adoption more pervasive. Vendors are also taking the telepresence experience to the consumer market with the launch of home telepresence products.
The emergence of newer video compression standards such as scalable video coding (SVC), an extension of the H.264 codec, will drive the growth of multi-point videoconferencing, IP network cameras, surveillance DVRs, and home media servers.
The infrastructure market, comprising multi-point control units, gateways, gatekeepers and management solutions, saw high growth for the second consecutive year due to pervasive adoption of telepresence and HD endpoints, and desktop videoconferencing. The growing popularity of VDI among enterprises looking to cut their IT infrastructure costs is prompting vendors to announce support for delivering real-time, multi-point video for virtualized desktops.
"On the competitive front, a spate of acquisitions in late 2009 and early 2010 has led to the emergence of bigger, stronger competitors that offer end-to-end portfolios of solutions," says senior analyst Subha Rama. "Though there is consolidation at the top, we are seeing the emergence of newer competitors with innovative and disruptive approaches."
Videoconferencing is also becoming truly multi-modal. "The growing penetration of consumer tablets such as the iPad among enterprise users has prompted larger UC vendors to launch their own enterprise-grade tablets that are capable of delivering UC-integrated videoconferencing," says practice director Dan Shey. "We are seeing telepresence and videoconferencing being untethered from conference rooms as the technology is integrated with a number of mobile devices."
ABI Research's "Telepresence and Videoconferencing Equipment Market" study analyzes key trends in the telepresence and videoconferencing equipment market in terms of growth, technology evolution, and competition.
It is part of the firm's Enterprise Communications Research Service.
ABI Research provides in-depth analysis and quantitative forecasting of trends in global connectivity and other emerging technologies. From offices in North America, Europe and Asia, ABI Research's worldwide team of experts advises thousands of decision makers through 29 research and advisory services. Est. 1990. For more information visit www.abiresearch.com, or call +1.516.624.2500.