[From USA Today; details and videos from Google are available here; an interview with one of the project creators is here; and a detailed review is available here]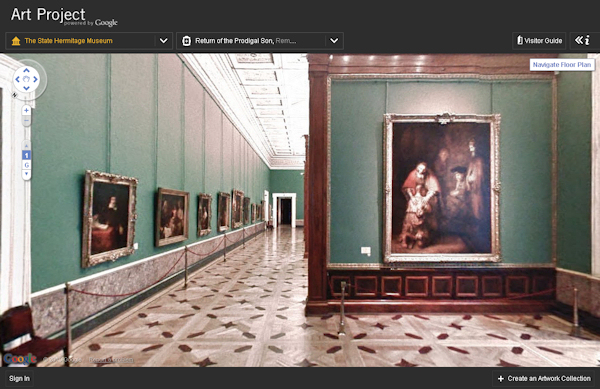 Google Art Project: Virtual museum tours, in one handy spot
By Whitney Matheson, USA TODAY
Feb 08, 2011
This morning I visited Washington's Freer Gallery of Art, the Tate in London and Amsterdam's van Gogh Museum. And man, are my fingertips tired.
The Google Art Project is an idea that's long overdue: Head to the website, and you can virtually visit 17 museums around the world (for free, of course).
The Art Project allows users to examine works up close — so close you can see brushstrokes on a Cezanne — and to wander the galleries, much like one can stroll the neighborhood with Google Street View.
Other participating museums include the Metropolitan Museum of Art in New York, London's National Gallery and Madrid's Museo Reina Sofia. If you like, there's an opportunity to "create an artwork collection" of favorite works, and an info tab offers detailed information about each work and artist.
The downsides: Only a limited number of works are on view at each museum, and the collection is pretty skimpy on modern art. However, it's still worth a look, especially since some of these paintings are difficult to see in person. Enjoy, and feel free to touch.