[From The New York Times, which features additional images]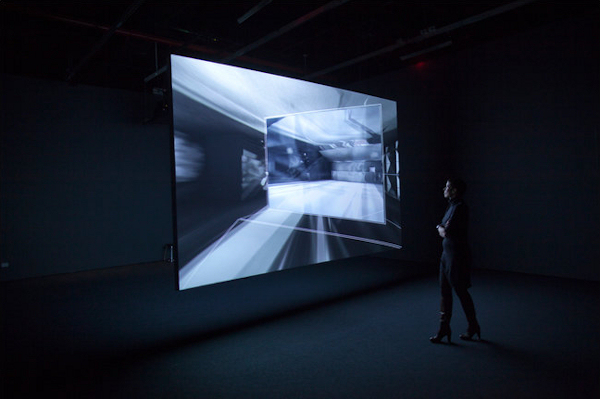 [Image: Kora Van den Bulcke walks around her exhibit "RealTime UnReal."]
When Pictures Leap to Other Screens
January 13, 2011
By EDWARD ROTHSTEIN
"Why have a Museum of the Moving Image at all?" is the question that readily comes to mind before visiting the new, improved, expanded incarnation of this venerable institution in Astoria, Queens, which reopens its doors on Saturday after a $67 million face-lift that might even put Hollywood cosmeticians to shame.
Yes, the fact that the Marx Brothers' antics and Rudolph Valentino's gaze were committed to celluloid by Paramount Pictures in this building makes a certain claim on cinematic attention. And yes, the museum's screenings have given it much cachet with cinéastes. And sure, the making and marketing of movies are enterprises that in their importance and engrossing details deserve the kind of full-scale treatment they get here. But that would make it a museum of cinema — a very different thing.
Why "moving image"? Why keep enlarging that subject the way the museum's founding director, Rochelle Slovin, did in opening the institution in 1988, stirring television, video games, video artwork and digital imaging into the mix?
And with this latest expansion of the museum's size to nearly 100,000 square feet, its doubling of classroom facilities to host 60,000 students a year, its new 68-seat screening room and 267-seat theater (which during the next six weeks of celebrations will present newly restored film classics and contemporary movies), the institution's wide-angle view is even more fully embraced. The museum, housed in a building owned by the city, which supplied nearly $55 million of the renovation costs, also has large public ambitions for its vision.
You can get some sense of why the "moving image" might be a revealing subject if you begin your explorations on the third floor, mounting the stairs that the architect Thomas Leeser has clad in a cool white that, like most of the new surfaces, seems to invoke the unbounded possibilities of screens and projector beams. You arrive in an enormous, darkened gallery devoted to a temporary exhibition, "Real Virtuality."
It contains just six installations described as "experiments in art and interactive technology." In "Realtime Unreal," created by Thomas Soetens and Kora Van den Bulcke of Workspace Unlimited, an enormous, brilliantly lighted screen divides the space, displaying images of rooms in the museum.
Everything is familiar: you have just passed through those galleries. But everything is also slightly skewed. Move toward the screen, and things become stranger still. Sensors and a network of computers transform the screen image, based on where you stand and how you move. You maneuver within an ever-shifting space.
You can explore, manipulate and experiment while trying to get some sense of that world's lineaments, the real and unreal intermingling. As you walk around the screen, the room swoops and collapses, melting into a different gallery on the screen's other side, as if you had passed through a warp in space.
Spectators watch on the sidelines and wait, their ghostly images appearing in the distant reaches of the screen image. You seem to be inside an alternative multidimensional world. You are supposed to wear 3-D glasses; they had not yet arrived when I visited, but the conception is so strong, I was immersed in it.
This "hybrid space" must have been a guiding light for the show's curator, Carl Goodman, who will succeed Ms. Slovin as director after she retires in February. And it gives a glimpse of how the institution might evolve. The show's subject, we learn, is not "virtual reality" — the notion that you could become an actor in an artificial space — but something more intricate, an intermingling of the real and virtual: "real virtuality."
In "Into the Forest," by OpenEnded Group, you wear 3-D glasses and watch yourself in a dreamlike woods of slow-moving figures. Bill Viola's installation "The Night Journey" is a slow-motion screen sojourn guided by a video-game controller, meant to suggest a spiritual journey. And reality also becomes strangely unreal in Pablo Valbuena's "Augmented Sculpture" as geometrically precise light beams pass over an array of rectangular structures, darkness and illumination transforming our sense of space.
There really is a thrill to these experiments. You are amazed at the technology while being entranced by the effects. The video game's hectic pace turns contemplative. And you begin to understand the museum's preoccupation.
A still image can seem fairly commonplace; that is how the world has been portrayed for millenniums. But it is also artificial; stillness is rarely discerned in daily life. Moving images, though the familiar substance of experience, have only been created in recent centuries. They seem more real than still images, but are more artificial in themselves, even unsettling; they resemble experience but seem divorced from it, even supplanting it. And while a still image proclaims permanence, a moving image is evanescent. Whatever the medium, it also has unusual power to affect perceptions and inspire amazement.
When entering the 15,000-square-foot permanent exhibition in the museum's older section, called "Behind the Screen" and devoted to the history of the moving image, keep that feeling in mind. It can't be that different from the one 19th-century viewers must have had looking at the antique spinning contraptions on display here that first brought still images to life. The names evoke arcane, ancient mysteries: the thaumatrope, the phenakistoscope, the zoetrope. Pass down a corridor of pioneering 20th-century movie and television equipment with another roster of plump names (orthicon, Plumbicon, iconoscope), and you begin to see how strange and demanding the creation of a moving image is.
Fifteen interactive displays allow exploration of that still-evolving project. In one, you wear headphones and watch, say, Marilyn Monroe in "Some Like It Hot," or Jack Black in "School of Rock." Computer screens coach you as you dub your voice over the star's, whimsically upsetting the familiar. In another display you can select a scene from "Vertigo" and replace Bernard Herrmann's urgent score with something by Bizet.
The lesson, again and again, is how much artifice and calculation goes into realism. You see a life-size dummy of Linda Blair, used to portray her rotating head in "The Exorcist." And in much of the exhibition's second part (where things can devolve into fanzine material) you see the makeup trays that help freeze the moving image into something more enduring: the star. Elizabeth Taylor's wig from "Cleopatra" is here; so is Meryl Streep's from "Sophie's Choice." Winona Ryder's injured (prosthetic) legs from "Black Swan" are displayed; so is Dustin Hoffman's aged arm from "Little Big Man."
And then there are scores of souvenirs and tie-ins, a "Howdy Doody Show" game, a Grace Kelly coloring book, a Batman lunchbox — still-image reminders of the moving-image experience. You can even walk into a terrific mock-Egyptian movie palace, created for the museum in 1988 by Red Grooms and Lysiane Luong, and watch vintage serials.
Some displays will interest only fans, and there are larger issues the museum could have addressed: examining how television transformed the movies (and vice versa), or exploring how video games transformed both, or showing the kinds of political power moving images have wielded. That subject is reserved for the museum's Web exhibition, "The Living Room Candidate," which explores the television commercials of presidential campaigns since 1952.
The museum also never really integrates its cinematic entrancements with other video enterprises. A split literally divides the building, the video art in the new, the core historical exhibition in the old; you can almost feel the architectural boundaries as you move between them. And the museum's high-profile tributes to film stars over the years rely on the very glamour being disassembled in some displays.
But the pleasures are considerable. Since the institution's founding Ms. Slovin has managed to preserve it from political pressures, academic posing and commercial interests; the result is sober, playful, stimulating, informative. And with its new space and exhibition, it is also clear that the museum's long-term ambition is to avoid becoming a static or still image of its subject. It may shift focus; it could be hard to pin down. But if it manages to amaze and unsettle as well, it will continue to live up to its name.