[From PC Magazine]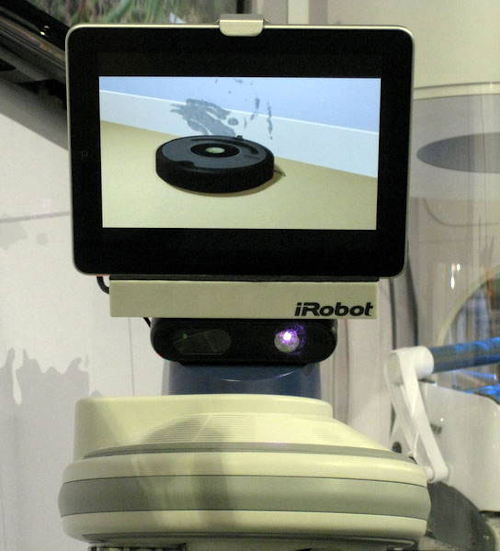 iRobot's AVA is an App-Ready Robot
A new telepresence robot combines mobility smarts, location awareness and even apps.
By: Lance Ulanoff
01.06.2011
LAS VEGAS–Imagine your iPad. Imagine it on a robot. Now imagine that robot is a 5-foot-tall, self-navigating bot that can use the interface and app capability of your favorite portable device to create a new kind of telepresesence automaton. Roomba manufacturer iRobot has gone beyond imagining to developing a working prototype called AVA, perhaps the first practical mobility platform.
Unveiled here at CES 2011, AVA combines your Apple iPad (or any Android device) with a mobile robot that uses multiple sensors for 3D-location awareness and to build a map of, perhaps, your entire home. In addition to sonar and laser sensors, AVA uses two PrimeSense sensors–yes the same ones found in Kinect for Xbox 360– to build a three-dimensional map of its environment. That map can appear on AVA's attached iPad screen or on a network connected PC. In either instance, you simply touch on the map where you want AVA to go and the robot will go there. It knows the map and its current location and can "see" the environment around it.
iRobot Co-Founder and CEO Colin Angle said the addition of mobile devices like the iPad and Android-based tablets allows anyone to build "a kick-ass mobility platform." "If you think of the thousands of apps out there: Which iPad apps would be more cool if they moved? The alarm clock? You appointments? Gaming?" said Angle.
Angle explained that the inclusion of these mobile devices means that anyone who can program an iPad or Android app can now program a robot. Some more obvious uses include meeting telepresence, home and office security, material handling and grabbing you a beer from your refrigerator and bringing it back to you.
In addition to the mobile platform integration, AVA uses a number of technologies that have primarily lived in academia. Among them is SLAM (Simultaneous Localization and Mapping). SLAM's been used in some of the DARPA-Challenge-winning cars (a road race where autonomous robot cars have to navigate terrain and make it to the finish line). Angle says AVA's version is five times faster than what you'd find in the academic world. AVA's also festooned with touch sensors. A gentle push on the bumper surrounding the "head" sends it gliding in one direction or another. Its holonomic base allows AVA to move rapidly in any direction. The body can extend from 3-feet to a max height of roughly five feet. It can do this automatically or via another touch to the head bumper. This allows the cameras to see at a level you're comfortable with. All this sensory technology makes AVA, Angle said, safe enough to operate it next to the kids. AVA's location and mapping abilities are significant since most existing telepresence robots are operated entirely via remote-control.
AVA will initially learn its location, by the way, via either remote control or literally by being guided around a location while it records and maps the details of each room. The final map is somewhat CAD-like, but should be usable by average people. Inside AVA's running iRobot's Aware2, Linux-based software.
The 40lb. robot should operate for roughly 6 hours on a charge and will be self-charging. iRobot hasn't announced pricing or delivery plans. However, Angle said the company actively has developers assigned to the project, and he's especially excited to see what developer partners might do with AVA.
To see AVA in action and learn more about it, check out the [3:42 minute] video.