[From The University of Derby Connected Online]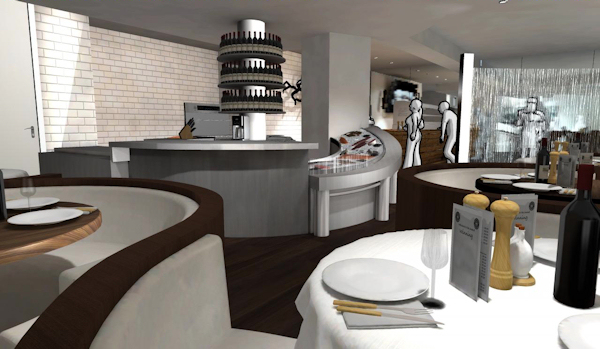 [Image: A 3D image produced by the VisiDeck system]
Games Technology 'Virtually' Advances Architecture
7 December 2010 
Architects' two-dimensional plans are set to be turned into highly realistic three dimensional (3D) virtual worlds you can walk through and interact with, thanks to a joint hi-tech project between the University of Derby and one of its graduates.
Tony Coates, a student on the University's BSc (Hons) Architectural Technology and Practice degree course, and software consultant Andy Yelland, who worked on the popular computer game Spiderman 2 among others, established company VisiDeck Ltd.
The company provides hi-tech services to architects and designers, to bring their creations to life on the computer screen.
Now VisiDeck is set to collaborate with the University of Derby on the next generation of this technology.
Taking an architect's two-dimensional plans the cutting edge system can create a virtual 3D world that their client can 'walk' through; to view the proposed building's concepts, structural or other technological issues from any angle and even how different materials, such as mirrored surfaces or marble, might look and interact with the light.
The virtual space is built up using 3D models, materials are given textures and then a 'photo-realistic' finish is added.
The system can also be used to depict outside spaces and landscapes.
VisiDeck joint owner Tony Coates, said: "Our architectural models use the latest computer games shading techniques to create a photo-realistic look and clients can 'move' about the space in the same amount of time it would really take them to walk around it.
"Not only does it help an architect or interior designer's client visualise what a two-dimensional plan might look like in real life but, because it is 'virtual', people in different countries can use the internet to collaborate on the same project at the same time."
VisiDeck, based in Warrington, Cheshire, is now working with the University of Derby's School of Technology – which has been involved with similar types of technology since the mid-1990s – to further refine their system.
Dr Boris Ceranic, University Programme Leader for Architectural Courses, said: "As well as the obvious design visualisation, communication and business applications there is a wealth of educational and further research possibilities.
"For example, we intend to look at how students on our Masters (MSc) degree course in Sustainable Architecture and Healthy Buildings could use this system and connect it with sustainable design analysis, to try out different ideas for producing more environmentally efficient buildings and get instant feedback on how changes affect the spaces they are creating."
For further information please contact Press and PR Officer Sean Kirby on 01332 591891 or 07876 476103, or email s.kirby@derby.ac.uk.