[From Singularity Hub]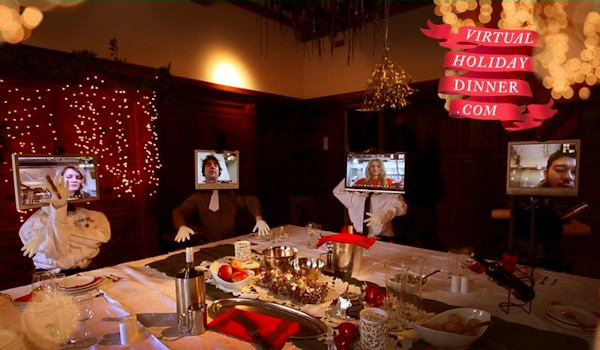 [Image: Ah, the holidays…when good people all over the world log on to Skype and share a virtual meal in Amsterdam.]
Celebrate Together When You're Worlds Apart: Virtual Holiday Dinner
December 30th, 2010 by Aaron Saenz
This holiday season 156 people living on six different continents got to eat dinner with their closest friends and loved ones even though they were thousands of miles apart. Was it Christmas magic, a Hanukkah miracle, or a Kwanza surprise? Nope, just another example of modern technology. Using five robotic telepresence 'dolls', Skype, and one oversized table, Dutch advertising firm Wieden+Kennedy Amsterdam brought friends together for Virtual Holiday Dinner 2010. Along with mics and speakers, each tele-robot doll had a video monitor to display a user's face, and a webcam to record the other robots around the table. Head tracking software let one glance around the table by turning one's gaze. In fifteen-minute blocks, guests were able to log in to one of the dolls via Skype and interact with others doing the same, along with some people who attended locally. The result was a fun chance to catch up with distant loved ones and tip a glass together in the spirit of the season. Virtual Holiday Dinner 2010 lasted three days, and Widen+Kennedy have shared a delightful video montage of the event for the world to enjoy. Check it out below. Do telepresence powered get-togethers seem strange to you? I think they're simply another sign of the times.
Watch Virtual Holiday Dinner from virtual holidaydinner on Vimeo.
The physical setup for Virtual Holiday Dinner 2010 was mostly a custom job. Each of the robotic 'dolls' was built by Wieden+Kennedy (or their friends), and the décor was likewise designed by the company. You can watch them construct the set and test the robots in the time-lapse video below. Pretty cool.
Watch Time lapse Virtual Holiday Dinner from virtual holidaydinner on Vimeo.
Besides the fancy presentation and robotics, however, the Virtual Holiday Dinner was an affair you have a good chance of replicating on your own. The telepresence was handled by Skype, and you can find decent head tracking software for webcams that is open source (and thus free). Heck, a motorized webcam that would let you look at several screens around the table is only $120 or so. With a little time and patience, you could run your own virtual holiday dinner. It may not have the panache of Wieden+Kennedy, but you could run it year round.
I only point all of this out because as cool as the Virtual Holiday Dinner 2010 may be, it's something any of us should have been able to think up on our own. In fact, I'm willing to bet that many of us already have, but our events simply didn't have the production value of a Dutch advertising company. Take a good look at the laughing, smiling (drunken?) faces in the video above. That's the world of telepresence, and it's already here to a large extent.  With some good PR the concept of the Virtual Holiday Dinner could catch on really well. All the conversation and joviality of the holidays but with the option to escape anytime you want…it's a dysfunctional dream come true.
[image credit: Virtual Holiday Dinner on Flickr]

[sources: Virtual Holiday Dinner site and Twitter feed, Wieden and Kennedy Blog]