[From The Washington Post, where the story features a slideshow; additional details follow below]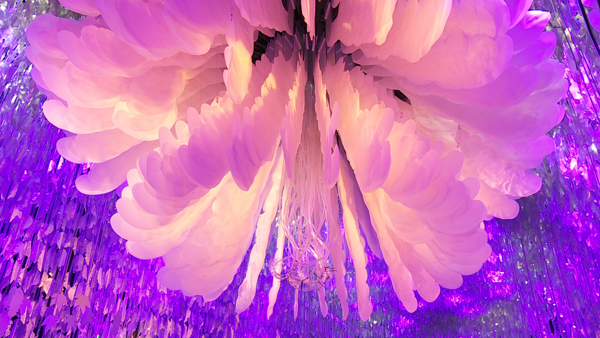 Taiwan flora show features high-tech displays
By ANNIE HUANG
The Associated Press
Tuesday, December 14, 2010
Paper-thin speakers blare pop music. 3D films appear on elongated screens with no need for special viewing glasses. Viewers' pulses turn cocoons into butterflies in an interactive display.
Welcome to the Pavilion of Dreams, a high-tech enclave within the Taipei International Flora Exposition, where Taiwanese artists and engineers are using technology-generated flowers and plants to strut the island's cutting edge know-how to onlookers from around the world.
The exposition, which runs from November through April, has so far drawn more than 1.9 million visitors to an expansive site in northern Taipei.
Already recognised as a supplier of smartphone and computer components to global technology companies, Taiwan wants to use the pavilion to highlight its capacity for product innovation in the increasingly competitive high-tech world, said Hsueh Wen-chen, head of the government-funded creativity center that designed the popular pavilion.
"Taiwan is not so well-known for creating technologies because we use them mainly in making parts and components for consumer products," she said. "Here we let our imaginations run wild in a way that can give us ideas about how to meet consumer needs when we design our products."
Visitors to the pavilion are greeted by a 3.5-tonne artificial flower hanging from the ceiling. It opens and folds its petals to the rhythm of pop music blared from scores of palm-sized speakers, cut into leaf shapes to merge with their surroundings. The speakers are made from a thin, flexible metal coated with a vibrating membrane with strategically placed sensors.
In an adjacent exhibition room, a row of 65-inch flat screens runs 3D animated films of flowers and plants that visitors can view without special glasses because the screens have been engineered to display something known as lenticular imaging.
Just around the corner, a wall of 3-metre-tall liquid crystal glass panels – looking like a giant transparent bowl – shows a lifelike projection of flowers in the wild.
Unlike conventional flat designs, the 18 panels are curved to create a stunning visual effect. Engineers changed the properties of the membrane attached to the glass so light permeates the curved surface evenly – just like it does on the flat screen version.
Perhaps most impressive of all, a nearby amphitheater shows a film about flora and fauna in a deeply forested environment that allows viewers to transform a small plant into a large tree by breathing onto the screen, or turn a cocoon into a butterfly by placing their wrists near the screen and letting their pulses do the work.
The apparently magical effect is accomplished by using ultra-wide bands, a radio technology first developed at a Russian lab to register life signs in human beings without making physical contact.
"Taiwan is now adapting the UWB technology for medical and other uses," said Yuan Nai-chuan, chief program producer at the pavilion. "We thought it would work very nicely here, too."
[From technologyguide.com]
NFC and Florabots
BY: Jamison Cush, technologyguide.com Editor
PUBLISHED: 12/7/2010
The Taipei Flora Expo exemplified Taiwan's commitment to technology. Dubbed "The Greatest Flower Show on Earth" by organizers, the Flora Expo is essentially the World's Fair of flowers, travelling from city to city for multi-month stints, providing the host an opportunity to promote its culture.
For Taipei, that includes technology, which was on proud display in the Pavilion of Dreams. Dreams is the most popular of the five pavilions, with only a small percentage of attendees getting the chance to enter (they have to enter a queue days in advance for an assigned time, my excellent and courteous trip organizers at the Taiwan External Trade Development Council  arranged for my group to cut everyone in line!).
The Pavilion of Dreams features interactive technology, designed to simulate "the aural and tactile sensations of flowers as they bloom, drop and dance, and of butterflies as they fit through the air," according to my Expo map.
Technologies of note include paper-thin speakers in the shape of leaves, the world's largest vertical 3D display (no glasses needed), and what I found most interesting, the Asus robot flowers, dubbed Florabots by the company.
The Florabot bouquet consists of 438 separate robot flowers that "dance" or bounce and light up to music. They also feature motion and sound detection technology, coupled with artificial intelligence to react to passersby.  It's similar to a chain reaction, where one flower "wakes up," thereby disturbing the flowers around it, which can then wake up or continue to rest.
[From the Expo web site]
Xinsheng Park Area: Pavilion of Dreams
Pavilion of Dreams is situated in Taipei City's Xinsheng Park. Comprised of 14 exhibition halls, the structure is filled with fun and surprises, and houses some of Taiwan's most advanced technology. Upon entering the building, visitors are presented with a technology dream bracelet that projects a virtual flower in front of them as they move about. A kaleidoscope of 3D effects awaits audiences in the first hall. No special glasses are required to enjoy the stunning collision between the real and virtual worlds. In the second hall, visitors are transformed into beetles as they weave their way through and around a maze of flower petals, experience the life cycle, and explore the natural world. In the third hall, which is a circle-vision theater, audiences find themselves racing through a sea of clouds and mist at breakneck speeds. The respiratory and heart rates of the audience interact with space as they use their breaths to help a flower bud grow and blossom. At the Pavilion of Dreams, visitors will experience a sensory whirlwind and delight in the wonders and surprises of the virtual world.