[From Entertainment Weekly]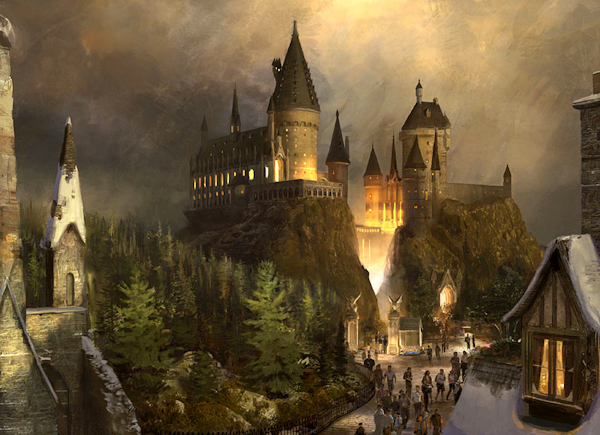 Jun 17 2010
Wizarding World of Harry Potter: Forbidden Journey reviews are in
by Manti Bierly
The Wizarding World of Harry Potter celebrated its grand opening last night, and while Daniel Radcliffe has already dubbed the Dragon Challenge rollercoaster his favorite ride, most eyes will be on Harry Potter and the Forbidden Journey, a ride which Universal Orlando promised would cause guests to "feel things no one has ever felt inside a theme park attraction, move in ways no one has ever moved." Before we check out early reviews, let's all just look at the photo Barbara Nefer took of the warning board that precedes the ride. You know you're in for something special when the people who should not experience the ride include, but are not limited to, anyone with a fear of heights or enclosed spaces, medical sensitivity to fog and strobe effects, and a heart condition or abnormal blood pressure. Also when prosthetic limbs must be removed.
iVillage's Liz Zack sets the scene nicely: "You're sitting in what is essentially the hand of a big robotic arm, which has the ability to turn you every which way. Over the next four minutes you'll join Harry on broomstick — twisting, turning, and diving as he flies over Hogwarts — you will lose your stomach and, if you're wearing flip flops, you will be very worried that you'll lose those, too." She was impressed by how immersed you feel in the action. "It seems like you barely make the clearance under the attacking arm of the Whomping Willow, and the biggest compliment I can pay the attraction is that I literally turned my head a few times thinking we were going to hit something or that the fire from the dragon would scorch us."
The Tampa Tribune's Kevin Walker was particularly excited about "an effect in which it looks like your face is being sucked away by a Dementor." I think we all second his enthusiasm when he concludes, "Awesome." He continues, "It's sort of intense. We rode with two kids and one of them totally freaked out, hiding his head in the snapshot they took of us (you can buy a photo of yourself on the ride after you exit and enter Filch's Emporium of Confiscated Goods). Good for parents of young children to know.
InsideTheMagic.net's Ricky Brigante has a detailed spoiler-filled 5,500-word review of the ride and the queue through Hogwarts leading up to it (vide [here]), if you're interested in a scene-by-scene breakdown. Or, if you're attention span is Twitter-sized:
@SnitchSeeker says "Forbidden journey; awesome and scary. So real. Hogwarts is making me well up. So pretty in the night sky."
@momopeche says "Harry Potter and the Forbidden Journey is the best amusement park ride, hands down. Think Haunted Mansion on steroids."
@LaineyGossip says, "Just played Quidditch w/ Harry and Ron on the Forbidden Journey." "The Forbidden Journey Ride at the Wizarding World of Harry Potter is straight up dope gold standard revolutionary. You MUST."
Note: Ollivanders wand shop is also getting rave reviews. To quote @LaineyGossip again, "I just had the Ollivander experience. It is spinetingling f—ing amazingness. You will weep. I did. And my wand, it FOUND me."