[From NJ.com; more information is here]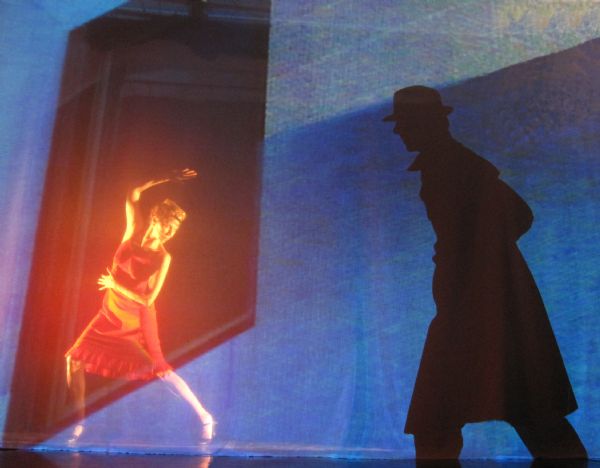 Dancers trick the eye in virtual reality
By Robert Johnson/The Star-Ledger
March 26, 2010
NEW YORK — Cult status surely awaits choreographers Myrna Packer and Art Bridgman, a playful couple of dance artists who have parlayed their familiarity with video technology into a reputation for dazzling illusionism.
"Under the Skin," their wildly imaginative piece from 2005, returned on Wednesday at the Baryshnikov Arts Center, joined by the premiere of "Double Expose," an even more elaborate adventure into virtual reality that is sure to delight their fans. With the help of videographers Peter Bobrow and Jim Monroe, and composer Ken Field, they create a fantasy world that must be seen to be disbelieved.
Like skilled prestidigitators, Bridgman and Packer begin by denying everything. A manifestly empty space ringed by black curtains confronts the audience — nothing up our sleeves, see? Then the music insinuates itself, conjuring images out of the darkness. Can a saxophone have sexy hips? It certainly feels that way, in a score where the melody swishes and seems to turn beneath a partner's arm.
Beams of light shoot from projectors, and Bridgman and Packer slip in through the upstage curtains, performing a contemporary jitterbug, or hiding behind cascading showers of typeface. Later they turn their own figures into screens. They seem to become transparent, revealing shadowy legs beneath hoop skirts, or their bodies remain opaque reflecting images of themselves dressing and undressing — a metaphor for the projections that they wear in layers. Their solid flesh shares the space with shining replicas.
"Under the Skin" is a wonderful tease. Intentionally, it does not fool the eye until the party scene near the end, when Bridgman and Packer seem to invite their friends over but actually just multiply themselves. Then it isn't clear, at first, which of the people crossing the backdrop are real, and which are fake.
This game of hide-and-seek lends itself naturally to a Sam-Spadish detective story in "Double Expose," a terrific new piece that adds animations by Karen Aqua to the virtual mix along with colorful outdoor locations. Here Field's saxophone becomes a foghorn on a dark and stormy night, and we see Bridgman from two angles at once, as a Private Eye stooping to retrieve a clue. He pursues Packer, a mysterious woman in a pillbox hat, through an urban labyrinth of bridges, underpasses, and crowded streets.
The mystery cannot be solved, because this dance's subject is romantic obsession. Packer, the auburn-haired temptress with a tart, knowing look, and Bridgman, her stolid companion, transform themselves into the gumshoe and his quarry; into a pair of teenage club-goers whose only physical contact is an on-screen fantasy; and into yet another pair of lovers whom we first spot necking on the street in the filmed background of a detective scene. When this "make-out" couple take center stage, her image doubles vaguely, and she appears as a tiny projection inside him like a memory he can't shake.
Because of its rectangular frames, the scene where all the characters end up in bed together owes perhaps too much to the sandbox in Susan Marshall's "Cloudless." Technical glitches are a definite possibility. Yet by strolling past the intersection of life and technology, "Double Expose" offers an evening of delights.
Myrna Packer and Art Bridgman
Where: The Baryshnikov Arts Center, 450 W. 37th St., between Ninth and 10th avenues
When: Today at 7:30 p.m., and tomorrow at 4 p.m.
How Much: Tickets are $20. Call (212) 868-4444 or visit http://smarttix.com