[From CNET's Rafe's Radar blog; a 5 minute video from DEMO 2010 is here]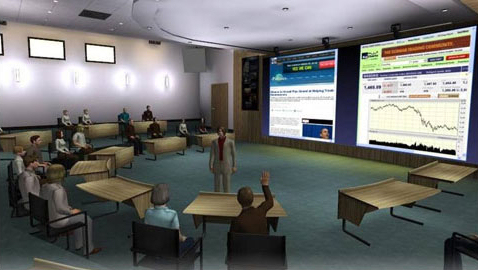 March 21, 2010
Don't laugh, Venuegen's virtual meetings can work
by Rafe Needleman
My co-workers will attest to the fact that when I started reading the materials about Venuegen's virtual-meeting-room service, I audibly groaned. I've had enough of companies trying to make meetings work in Second Life-ish virtual worlds. It's too cute an idea for too serious a need. Or so I've always thought.
A demo of the service, which is being unveiled at the Demo conference Monday, opened my eyes a bit. Built on a gaming platform but decidedly not a game or "virtual world," like Second Life or There, Venuegen is a world of 3D rooms inhabited by human-appearing avatars with photo-mapped faces (like yours and your co-workers'), and a set of controls aimed squarely at replicating both the real-world experience of sitting in a meeting room and the unique online experience of sharing onscreen presentations and having private back-channel conversations while watching a public presentation.
The clever 3D engine's avatars automatically start moving their lips when participants talk, and a control panel lets the participants set their mood, which controls their body language and facial expressions. Users who want to screw around can also click on goofy one-shot gesture buttons. People with real work to do will probably never move their avatars off their default settings.
There are no cameras involved. Once you upload a few pictures of your face and tweak the way you want your body to appear, everything Venuegen shows is algorithmically generated. This means that if you like to put your real feet up on your actual desk or read e-mails during a virtual conference meeting, you still can, while your avatar appears to be intently engaged. Nice.
The system tracks where everyone is and makes sure that when your avatar is pointed at another person, that other person can see that you are looking at him or her and paying attention. The virtual gaze feels real enough. Positional audio is used to give you cues to where other speakers are.
When you want to set up a meeting, you can choose from several venues, from a coffee shop table with 5 seats, to a university lecture hall with 46. Avatars can get up and move, too, although the walking controls aren't quite as precise as they are in first-person shooter games (there are also no phaser guns in Venuegen, which many will see as a drawback).
Webex features include screen-sharing, markup tools, text chatting, and the like. Virtual screens (movie screens, TVs, and laptops) in the virtual space are used for sharing computer imagery.
Setup is tedious, with the installer triggering several Windows UAC warnings as you go through the process. You also need to take and upload three plain photos of your face from different angles to get the avatar to look like you (it uses BigStage technology), and unfortunately the setup app won't snap pics from your Webcam. But learning to use the app is quite simple, and definitely fun.
There is as yet no Mac version and no mobile versions, although CEO Jeff Crown says they're in development. It's also not clear to me what kind of PC is required for a smooth virtual experience. On my desktop gaming machine it ran fine, but business users on old laptops without up-to-date graphics hardware may have problems.
I still can't see myself using this service, and no online service will ever surpass the capacity of a real-world face-to-face meeting to carry emotional bandwidth. But my early derision for Venuegen was at least partly misguided. After seeing and trying the app, it's clear to me that this could suit things like team check-ins, sales meetings, and online education.
There may be big problems getting everyone in a team to take the service seriously, and the time it takes to get everyone set up and comfortable with the app might kill many Venuegen trials before they're off the ground. But with this app, virtual-space business meetings attended by avatars can in fact work.
Venuegen subscriptions start at $90 a month for small teams. Prices are higher for larger groups.
Rafe Needleman writes about start-ups, new technologies, and Web 2.0 products, as editor of CNET's Webware.