[From NewsOK]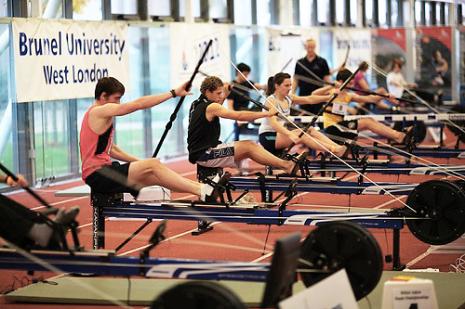 Kayakers head indoors
U.S. Championship Machines will simulate rowing
BY ED GODFREY
The Oklahoman
Published: February 19, 2010
Oklahoma City will be the site Saturday for the first U.S. Indoor Kayak Championship at the Cox Convention Center.
About 40 top kayakers from as far away as Washington and Hawaii will be competing in the inaugural event.
The Cox Center will not have an indoor water course. Instead, the kayakers will be paddling in virtual reality.
They will be racing on kayaking machines used for indoor training.
The machines simulate the same resistance as paddling in the water and mimic the action of kayaking, said Sherry Mullin of the Oklahoma City Boathouse Foundation.
The machines are connected to software which displays the computer-generated races on a scoreboard.
Contestants and spectators will be able to see on the scoreboard each lane and position of the paddlers during the simulated races.
The kayakers will be competing in both 200- and 500-meter sprint races in four different divisions: men's, women's, juniors and seniors.
The first heats in the 500-meter event begin at 9:30 a.m. with the first finals starting at 10 a.m.
Heats in the 200-meter sprints begin at 2 p.m. with finals starting at 3:30 p.m.
The first indoor kayaking championship is bringing more attention to Oklahoma City, which is looking for top rowers to train here for international competition, said Shaun Caven, director of canoe/kayak at the OKC Boathouse Foundation and former British National team coach.
"Having both the indoor championship and the national championships in Oklahoma City puts us center stage in the sport of kayak in the U.S.," Caven said.
Oklahoma City recently was awarded the 2010 USA Canoe/Kayak Flatwater Sprint Nationals, which will be held on the Oklahoma River in August.