[From The Human Productivity Lab's Telepresence Options web site]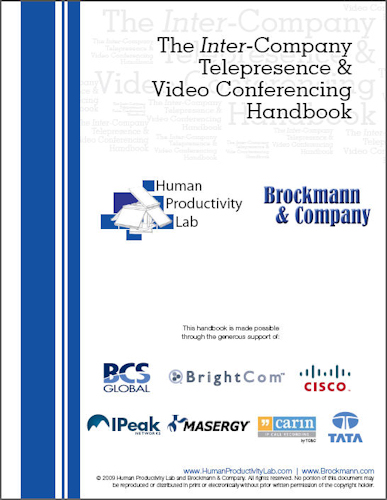 The Intercompany Telepresence and Videoconferencing Handbook
"The Inter-Company Telepresence and Video Conferencing Handbook" educates CIOs, executives, managers, telepresence and video conferencing professionals about the opportunities, challenges and solutions for inter-company telepresence and video conferencing with partners, vendors, and customers.  Written by Howard S. Lichtman, President of the telepresence consultancy Human Productivity Lab and Peter Brockmann, President of Brockmann & Company – The Customer Insight Firm, the Handbook is a guide to reducing costs, improving individual and organizational productivity, improving time-to-market advantage, and leveraging your investment in telepresence and videoconferencing as part of your disaster recovery program in the face of war, terrorism, false flag terrorism, economic, or public health emergencies.
Executive Summary
Video conferencing had been relegated to the corners of the enterprise market for the past four decades, primarily as a communications service suitable for enthusiasts but not really ready for prime time. In recent years, that practice has changed dramatically. The introduction of HD cameras, codecs and low cost high speed networks defined an expectation for performance.
It was the introduction of telepresence that showed the power of quality and the need for a natural, elegant and immersive experience. Now that airlines are regularly failing – more than 25 in 2008 alone – and users have broken the 'must travel to meet' expectation, the technical, operational and cultural hurdles of enabling inter-company telepresence and video conferencing need to be understood and overcome. This handbook, the first of its kind, is a comprehensive overview of these issues and includes six industry best practices that will enable your organization to connect with customers, partners and suppliers while reducing the hard, soft and opportunity costs of doing business.
The handbook is available as a free download due to the financial support of some of the leading firms in telepresence and videoconferencing, managed services, and internetworking including: BCS Global, BrightCom, Cisco Systems, IPeak Networks, MASERGY, TC&C Carin,  and TATA Communications.
The follow on report, The Telepresence and Video Conferencing Exchange Provider Review will be a comprehensive review of a new class of telepresence and videoconferencing service providers: Telepresence and Video Conferencing Exchange Providers.  Exchange Providers connect enterprise and carrier networks together, match disparate QoS tags, handle IP address conflicts, and enforce security policies to connect together partner, vendor, and customer companies on different networks for secure, high-quality telepresence and video conferencing sessions.  The Telepresence and Video Exchange Provider Review will be released in January and is available for pre-order with a 20% discount at: http://www.TelepresenceOptions.com/exchangereview
The Human Productivity Lab will be hosting The Developing an Intercompany Telepresence & Visual Collaboration Program Conference and Working Group on April 21st & 22nd, 2010 in Reston, Virginia.  The event is for organizations looking to improve their ability to collaborate with their vendors, partners, and customers using telepresence and video conferencing and a working group where partners can get together to work out details of a joint program in a highly focused, productive environment.  Details are available at http://www.telepresenceoptions.com/conference.php
You can purchase color hard copies at LuLu.com for $25.00 here: http://www.lulu.com/content/paperback-book/the-inter-company-telepresence-and-videoconferencing-handbook/8111232
The Handbook is available as a free download here or through subscribing to the Telepresence Options Telegraph, our monthly newsletter following the latest in telepresence technologies, below.  You are free to unsubscribe at anytime.