To all members and friends of the presence community:
The submission deadline for the PRESENCE 2018 conference in Prague is coming up soon (and may be extended if we get enough requests). The organizing committee is busy planning a useful, interesting and fun event, and we're looking forward to seeing many of you there!
The call for papers (below and on the ISPR website) has been updated with submission templates for MS Word and LaTeX, new information about hotels near the conference venue, new destinations for the informal group sightseeing the day before the conference begins (mmm, chimney cakes!), and more.
If you have any questions or requests, please e-mail me directly at lombard@temple.edu.
–Matthew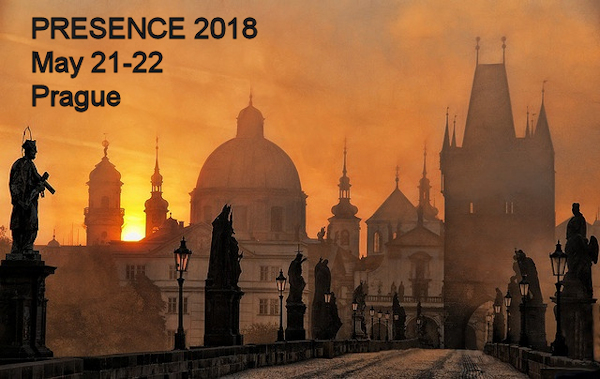 CALL FOR PAPERS
PRESENCE 2018
18th conference of the International Society for Presence Research (ISPR)
Prague, Czech Republic
May 21-22, 2018 (optional demonstrations and guided sightseeing events May 20)
https://ispr.info/call-presence-2018
Conference theme: Challenges
Submission deadline: February 20, 2018
PLEASE HELP US GET THE WORD OUT
BY SHARING THIS CALL FOR PAPERS:
Web (.html) version (this post/page; url above)
Acrobat (.pdf) version
Word (.docx) version
Plain text (.txt) version
Note: PRESENCE 2018 precedes (but isn't affiliated with) the 68th Annual Conference of the International Communication Association in Prague May 24-28.… read more. "Call: PRESENCE 2018 Conference Updates!!"