[This story about a new production designed to evoke a greater sense of presence in historical events is from The Hollywood Reporter; the experiences are available at DiscoverVR.com and a press release is available via Broadway World. –Matthew]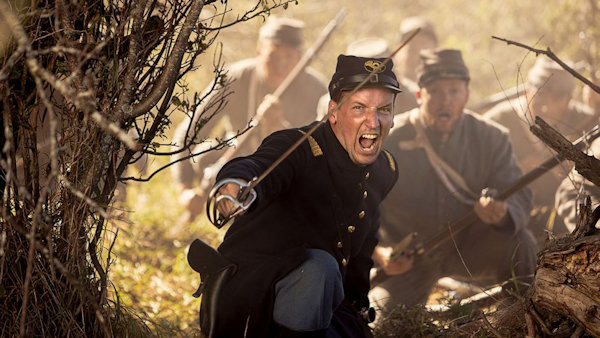 [Image: Chris Gordaneer/Courtesy of AHC
Discovery's American Heroes Channel Plans Virtual Reality Civil War Experience (Exclusive)
The immersive segment takes an 1865 Confederate cadet dodging enemy fire in muddy trenches from 2D to 360 degrees.
November 28, 2016 by Etan Vlessing
The Discovery-owned American Heroes Channel is bringing the Civil War from 2D to 360 degrees with a virtual reality experience.
The cable network's short VR segment Civil War: Letter From the Trenches, from Cream 360 and Discovery VR, is a companion piece to Blood and Fury: America's Civil War, a TV series set to debut Dec. 14 and transport viewers to tumultuous battles like Bull Run, Fredericksburg and Gettsyburg from a soldier's point of view.
Set in 1865, Letter From the Trenches tells the story of a Confederate cadet dodging enemy fire on a muddy battlefield and uses a host of immersive sight and sound techniques to go beyond the surround sound experience you get at the local multiplex.
For example, The VR segment brings viewers into the cadet's perspective by custom-rigging Go Pro cameras in production with Entaniya fish-eye lenses so viewers experience bullets whizzing by their ears and explosions lighting up the battlefield.
But Cream Productions' co-founder and CEO David Brady told The Hollywood Reporter convincing 3D audio was required to complement the visuals to ensure the VR experience is truly immersive. So Cream added more gunfire and explosions during production of the TV series to ensure war sounds reverberate around the battlefield when viewed via a VR headset.
And they mixed in spatial audio in postproduction so viewers can sense, for example, where battlefield fire is coming from, and where it needs to be returned. Brady said the enhanced visuals and audio should have viewers turning and looking to see the directional source of dialogue, bullets and explosions, including from cannonballs streaking across the sky.
"Above you there's cannonball contrails, and those are spatially directed so you can follow with your eyes as your ears tell you where they are going," Brady explained.
"The effect is to hopefully make the viewer turn their heads to see all of this," he added.
The VR experience from American Heroes Channel is available on DiscoverVR.com, or via the Discovery VR apps for IOS, Android and Oculus Rift, HTC Vive and Samsung Gear VR, powered by Oculus.