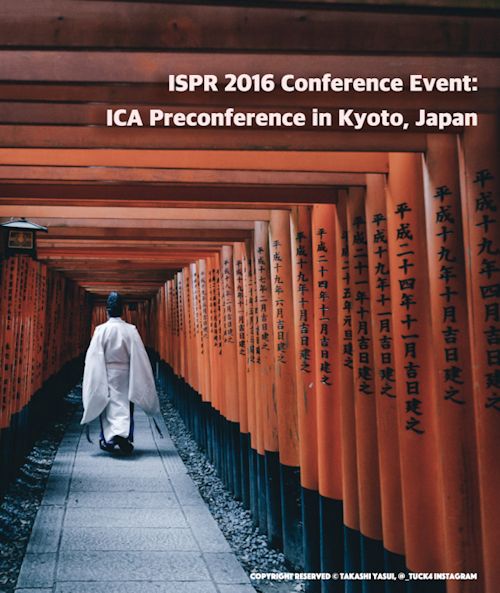 CALL FOR ABSTRACTS AND PARTICIPATION
The Power of Presence: Using Telepresence Theory, Research and Applications to Enhance Mediated Communication Experiences in the 21st Century
A preconference of the 2016 conference of the International Communication Association (ICA)
Co-sponsored by the International Society for Presence Research (ISPR)
June 8, 2016 (with optional demonstrations and guided sightseeing events June 7)
Submission deadline (extended): February 18, 2016
OVERVIEW
Join us at Kyoto Research Park in Kyoto, Japan for an enlightening and enjoyable conference event two days before the 66th annual conference of the International Communication Association in Fukuoka, 9-13 June.
(Tele)presence is a state or perception in which we overlook or misconstrue the role of technology and feel present in the environments and/or connected to the people or things we experience via technology. It's increasingly relevant to a wide range of media experiences and application areas. This preconference will introduce the centrality, pervasiveness, value, and power of presence phenomena, theory and research to scholars and practitioners within and beyond communication and deepen and update knowledge for those already familiar with presence.
The event will include a full day of invited and peer reviewed state-of-the-art presentations, and demonstrations; a keynote address from renowned Professor Hiroshi Ishiguro of Osaka University, creator of amazing humanoid robots and co-author of "Human-Robot Interaction in Social Robotics" (2012, CRC Press); and informal discussion, networking and fun. At the end of the day, all attendees are invited to a social dinner at an (affordable) nearby restaurant; we also hope you'll join us for all or part of a day of demonstration visits and guided sightseeing on June 7 (the day before the event).
Registration is open to anyone and the costs are modest: $50.00 USD for academics, $40.00 USD for students, and $90.00 USD for industry.
TOPIC AND OBJECTIVES
The term 'presence' has many formal and informal meanings but is used by a growing interdisciplinary scholarly community to refer to experiences in which technology is overlooked or misconstrued in some way during a mediated experience. Long a focus of those who study virtual reality and environments, it's increasingly relevant to a wide range of media experiences. Recent research projects conducted by Dr. Lombard and others have explained the concept and experience of presence this way:
"Telepresence (which is often shortened to just "presence") is often associated with virtual reality and something that often happens when people use media technologies. When telepresence happens, the user feels present in or connected to the people or things in the media experience. We still know we're using a technology, but at some level we ignore the technology and just perceive the people, things and events of the experience. For example, we get "lost" in the world of a novel, TV show, movie, videogame or theme park ride; we're convinced by the realism of paintings or graphic designs; we treat our cars, computers or other machines as if they have personalities of their own, and we feel like we're "with" a person we talk to on the phone or in a videoconference. These are just a few examples; telepresence can happen with many other media too. But in every case of telepresence, we know we're just using technologies but at some level we ignore that and just experience the people and places the technologies provide."
The presence research community has been working to identify causes, characteristics and consequences of diverse presence experiences. The consequences identified so far – including arousal/relaxation, empathy, enjoyment, persuasion and more – make clear the importance and power of presence to improve communication across a wide variety of contexts and applications of interest to communication (and many other) scholars and those who create media technologies and content. The research demonstrates that presence can facilitate optimal and effective communication in contexts including health, politics, computer-mediated communication (CMC), gaming, media effects on children, mobile media, and on and on. Presence as a concept and set of phenomena is related to the work being done in every division at ICA. The nearly 3000 posts in ISPR Presence News and thousands more on its predecessor, the presence-l listserv (created for the ICA Information Systems division), along with the 2,300+ entries in the Presence Bibliography on the ISPR website, illustrate the breadth of presence applications, and the breadth, depth and value of presence scholarship.
The primary objective of the preconference will be to introduce communication scholars and practitioners to the centrality, pervasiveness, value, and power of presence phenomena, theory and research within and beyond the diverse field of communication. A secondary goal will be to deepen and update knowledge of those already familiar with presence. The overarching goal is to help integrate and increase collaborative, scholarship on presence.
SUBMISSIONS
Topics
We seek original, high quality papers and demonstrations that contribute to our collective understanding of the power and breadth of presence phenomena and presence applications in any/every aspect of life. Topics of interest include (but are not limited to):
Presence theory
Measures of presence
Presence and emotion
Presence and education
Presence and social interaction
Gender and Presence
Neuroscience approaches to Presence
Presence in gaming and entertainment
Philosophical perspectives on presence
Ethics of presence
Presence technologies and applications (e.g. in business, arts, medicine and therapy)
The future of presence research
All accepted submissions will be collected in the official conference proceedings (with ISBN) and will be permanently available for download in the ISPR conference archive.
We invite researchers and practitioners to submit an EXTENDED ABSTRACT for their work in the categories below (full versions also welcome). All submissions are to be in APA format and except for the separate title page not identify the author(s) directly or indirectly (for blind peer review). Extended abstracts should not be longer than 12 pages excluding references, figures and appendices.
PAPERS: Comprehensive descriptions of research or design work and/or theoretical investigation within the scope of the conference; up to 30 pages in APA format. Papers must relate to existing literature on presence and make an original contribution to it. Accepted papers will be included in the Proceedings and will be allocated time for oral presentation. You may submit a completed paper rather than an extended abstract if you wish.
SHORT PAPERS: Short papers may be up to 12 pages in APA format. Accepted papers will be included in the Proceedings and will be allocated time for oral presentation. You may submit a completed short paper rather than an extended abstract if you wish.
POSTERS: Visual display presentations. Poster proposals must describe and/or contain early drafts of the visual display. Accepted poster abstracts will be published in the conference Proceedings. Posters will be displayed on a board during a dedicated session of the conference. Each poster will be allocated a 2 minute oral preview.
DEMONSTRATIONS/EXHIBITIONS: Step-by-step audiovisual demonstrations and/or hands-on experiences of non-commercial work within the scope of the conference. Accepted demonstration/exhibition proposals will be included in the conference Proceedings and will be presented during a dedicated session of the conference. For the exhibitions of commercial products, please contact us for sponsorship terms and opportunities.
Procedure
Submissions are to be sent as two e-mail attachments in Word (.docx) format: 1) the title page containing all author names, affiliations and contact information; and 2) a completely anonymized version of the entire paper. Send the files to Matthew Lombard at lombard@temple.edu.
Timing
Submission deadline (extended): February 18, 2016
Notification of acceptance decisions: March 1, 2016
Finished, camera-ready papers due: May 31, 2016
REGISTRATION
Registration will be accomplished through the main ICA website, http://www.icahdq.org/conf/.
Registration for the event is open to anyone and the costs are modest: $50.00 USD for academics, $40.00 USD for students, and $90.00 USD for industry. (This includes lunch and snacks through the day; venues for the social dinner and June 7 activities will be selected to limit additional expenses.)
LOCATION/VENUE
The preconference will take place at Kyoto Research Park in Kyoto, Japan. The venue has much to offer:
It's easily accessible from many Japanese and other cities
It's near the main ICA conference site in Fukuoka and there are affordable and accessible travel options between the two cities
It's near the Kyoto-Kobe-Osaka triangle of interesting visitor sites that provide a variety of venues for cultural experiences and that are easily accessible by public transportation from the preconference site such as:

More than 1600 Temples in the Kyoto area, including 17 World Cultural Heritage sites
Famous cultural Heritage sites: Kinkaku-ji (the Golden Pavilion); Kiyomizu-dera; Ginkaku-ji (the Silver Pavilion) and its Zen gardens; Ryoan-ji, a Zen temple (known for its gardens); Tenryu-ji; and To-ji
Gion District where people can see working Geishas (traditional Japanese female entertainers who act as hostesses and whose skills include performing various Japanese arts) and for its Philosopher's Path—a two-kilometer path along a quiet canal that starts at Ginkaku-ji and is lined with smaller shrines and temples

It's near many hotels and restaurants
It's easily accessible via local public transport
TRANSPORTATION
Attendees will arrange their own transportation to and from the main ICA conference site in Fukuoka but we'll provide detailed information about the travel options.
Travel from other cities to Kyoto:
By air: Kansai Airport serves many domestic and international cities with direct flights. The JR Airport express train HARUKA takes about 75 minutes to Kyoto Railway Station. Or a bus from Kansai airport to Kyoto runs from 6:05 am to 11:30 pm and takes approximately 2 hours (details here and here).
By train: Kyoto Railway Station serves routes from many Japanese cities including Tokyo.
Travel from Kyoto to Fukuoka:
By air
Flights from Kansai Airport to Fukuoka Airport are just over an hour.
By train:
An hourly Shinkansen Nozomi line train from Kyoto to Fukuoka (Hakata station) takes 2hrs and 45 min. and costs 15,000 yen ($120). The Shinkansen train from Osaka takes 3 hours or so from Shin-Osaka station to Hakata station and costs 9,610 yen ($80). Details are available from HyperDia.
By bus:
An overnight bus from Kyoto station to Hakata Station costs from 7,000 to 8,700 yen depending on the seasons and takes about 10 hours. Details are here.
ACCOMMODATIONS
The preconference won't provide housing but will recommend accommodations near the preconference venue. Some options:
Hotel Nikko Princess Kyoto. It is only a 4-minute walk from the preconference site and this hotel receives good comments.
Mitsui Garden Hotel Kyoto Shijo. It is about a 7-minute walk from the preconference site.
There are many other clean and cozy hotels nearby.
DEMONSTRATIONS AND SIGHTSEEING JUNE 7
On Tuesday June 7 from 11am until 5 pm attendees are invited to a series of demonstration visits and sightseeing. Potential stops on a tour to be led by preconference team members (who speak Japanese) include:
ABOUT ISPR
The International Society for Presence Research (ISPR) is a non-profit membership organization founded in 2002 to support academic research related to the concept of (tele)presence.
ISPR has sponsored 14 successful international conferences (beginning informally in 1998), providing richly social opportunities to share scholarship and application of the presence concept.
The ISPR website (http://ispr.info) serves as a resource for those who conduct research, develop theory, design, market, write about, or simply are interested in, the concept and phenomena of presence.
ISPR Presence News, available via the ISPR website, provides current news stories, calls for papers and participation, position announcements, and other informative posts every weekday (a total of nearly 3000 posts since 2009).
ORGANIZERS
Matthew Lombard, Temple University
Cheryl Bracken, Cleveland State University
Jihyun Kim, Kent State University
SongYi Lee, Temple University
Kun Xu, Temple University
Hocheol Yang, Temple University
Fabienne Darling-Wolf, Temple University
FOR MORE INFORMATION
Contact:
Matthew Lombard – lombard@temple.edu
ISPR website – http://ispr.info