[This story from Highsnobiety includes interesting comparisons of the real and virtual versions of clubbing ("the boundaries between URL and IRL [are getting] increasingly pixelated"); the original story includes two more images and a 1:15 interactive preview video (which viewed on YouTube leads to other full-length videos). –Matthew]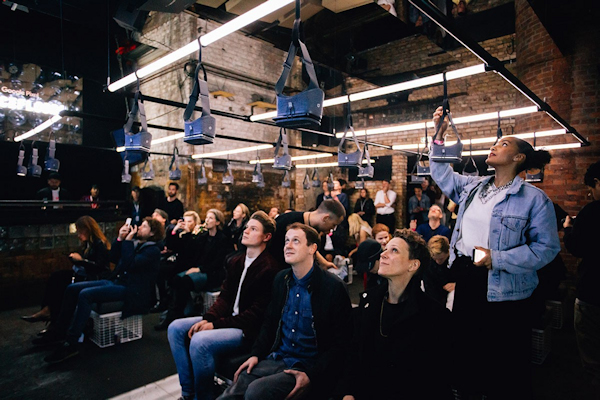 Is Virtual Reality the Future of Clubbing?
By Bianca Giulione
April 11, 2017
Since its creation in 2011, Boiler Room has become nearly synonymous with underground dance music. Often a rite of passage for musicians and enthusiasts alike, it has invariably changed the way dance music is consumed. Having been to my first IRL Boiler Room back in 2013 when it was still quite a novel concept, I recall the sheer joy of loading up on free drinks from whichever alcohol brand was the sponsor and getting extremely wavy with my friends, knowing homies who didn't make the guest list would be watching and commenting away at our livestreamed debauchery in the chatroom (R.I.P., but good riddance, honestly).
Fast forward four years and I'm sitting in Berlin's Arena Club strapping a Google Pixel powered Daydream VR headset to my head for Boiler Room's first-ever VR experience. Up until this point, my brushes with virtual reality were limited to this weird virtual hang gliding game at my local arcade growing up, and a stomach-churning free fall from a plane on one of the first Oculus Rift headsets. Daydream is nothing of that sort. It's not clunky and cold; it looks as if it's cut from the same cloth as your favorite pair of sweatpants. If the singularity is nigh, that is, if artificial superintelligence is about to trigger changes to human civilization we can't even imagine, at least it'll be cute and cozy.
We're told we have 10 minutes to explore the 15-minute virtual reality film, and that we'll be tapped on the shoulder when our time is up. I press play and I'm immediately transported to a VR version of the same room we're currently in. Techno trio FJAAK begins their set, configured in a triangle in front of racks of analog synths. I turn my head, surrounded by enthusiastic Berlin partygoers who seem familiar. They're chatting, doing the Berlin techno 2-step, rolling cigarettes — party business as usual. Aside from the fact that the bodies are slightly translucent, they seem quite real. Read more on Is virtual reality the future of clubbing?…