[This story from Study Breaks is about the use of augmented reality to create presence illusions for a serious and extremely valuable purpose. The original story includes several more images. –Matthew]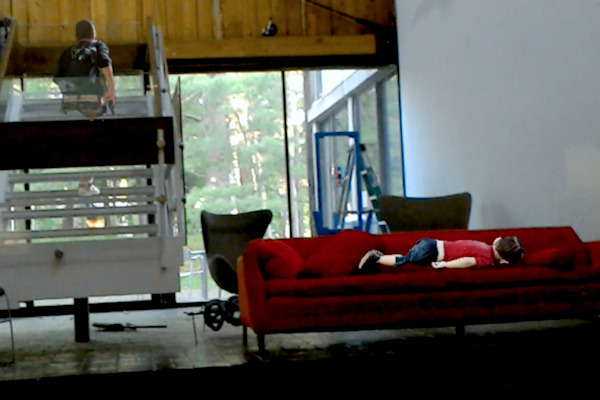 'HOLOGRAMS FROM SYRIA' REFUSES TO LET YOU IGNORE THE HAUNTING IMAGES OF WAR
Bennington College student Asad J. Malik, also known by his alias 1RIC, seeks to bring the gruesome reality of war to the forefront with his latest project "Holograms from Syria."
By Marissa Cortes, Stony Brook University
November 1, 2017
Early in the morning on September 2, 2015, before the sun had risen and the pops of gunfire had begun for the day, three-year-old Alan Kurdi and his family boarded a tiny dinghy to flee Kobani, Syria, their hometown and a war-torn battleground in the Syrian Civil War; when their boat capsized hours later in the middle of the Mediterranean Ocean, the young boy, his mom and his brother all drowned. A Turkish journalist photographed Kurdi's lifeless body lying facedown in the sand, and the image sparked an international outpouring of sympathy. In that instant, through that photo, the horror of the Syrian Refugee Crisis captured the attention of the world, the emotional weight of the dead child's image proving a more effective catalyst for action than the hundreds of activists who had tried to convey the desperation of their situation for years. It's easier to ignore something you can't see.
Asad J. Malik, a twenty-one-year-old junior at Bennington College, a private, nonsectarian school in the southwest corner of Vermont, understands better than most how divorced Americans are from the tragedies that they read about every day. Malik, who, since Bennington doesn't offer traditional majors, is on a specialized study track focusing on augmented and mixed reality, was born in Abbottabad, Pakistan, in a hospital not five minutes from where Osama bin Laden was killed by U.S. special forces. In Pakistan, unlike in America, being "at war" viscerally affected his daily life. "I was raised in a country where the impacts of the post-9/11 War on Terror were felt in everyday life," Malik told me over the phone. "The images of violence that frequented our television screens were from the same cities and towns that we populated."
In America, through television, the internet and social media, the collective conscience has been so inundated with images of faraway tragedy that many people have become desensitized to it. For over a decade, the United States has been involved in a war that has hardly come within a thousand miles of American soil, which means that the impact of that conflict on daily life has been virtually nonexistent. Tragedies abroad occur and reoccur, each time spiking sympathy throughout the country for a few days, until the fervor passes and life returns to normal.
When Malik moved to Vermont to attend college, this disparity astounded him. "Since I've moved to the U.S., images of war have followed cat videos, Trump memes, mutilated dead bodies in Syria, beautifully designed mattress ads—one after the other on a scrolling newsfeed. The country is at war but something's fundamentally different; there is no war, at least not here. No drones in the sky, no fear of public spaces, no reason to hide. The war might be real in some foreign land. But not here. Here, it's merely rising defense stocks and a series of images on a four-inch screen."
With his augmented reality project, "Holograms from Syria," Malik aims to undermine the ignorance that Westerners use to shield themselves from having to acknowledge their complicity in foreign instability. The project debuted first as an installation in the Visual and Performing Arts Centre at Bennington College in Vermont. To experience the exhibition, viewers were invited to put on a Microsoft Hololens headset, which transformed the building into a structure littered with holographic images of war. In the foyer, young Alan Kurdi's body rests on a bright red couch. In a stairwell, Aleppo elite forces, guns in hand and garbed in body armor, bound up the steps students use every day. The effect of such a union is both jarring and powerful. "Viewers agreed that they couldn't see that space or that couch in the same way again, whether or not they were wearing the Hololens," says Malik. "The project served the simple purpose of reminding the viewer that in our state of perpetual warfare, the couch that they sit on is socially, politically and economically connected to someone else's dead body." Read more on 'Holograms From Syria' refuses to let you ignore the haunting images of war…