[Presence can provide vivid and impactful experiences that change people's knowledge, attitudes and behavior but that power must be used responsibly, as highlighted in the second part of this story from the Daily Mail; for more information see a 1:53 minute video from Getty Images and a 2:26 minute video on YouTube. –Matthew]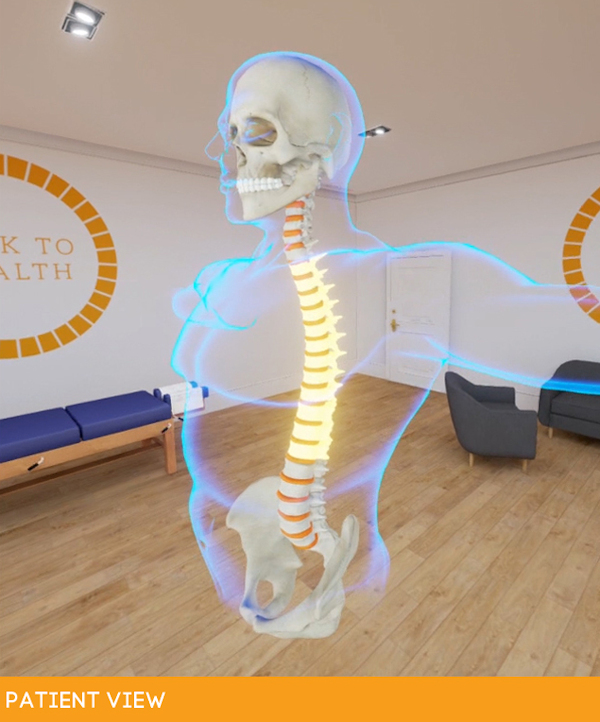 [Image from Framework Creative: We created spine medical diagnostic tool for a chain of chiropractors, Back To Health, determined to be at the cutting edge of their industry. Based on a multi-player platform, the patient moves around the virtual representation of their spine in VR whilst the practitioner manipulates and highlights the vertebrae to discuss and better demonstrate each patient's specific situation.]
Why wearing a virtual reality headset may help to beat back pain: Software can create 3D images to help patients understand their problems
By Rosie Taylor for The Daily Mail
Published: 28 August 2017 | Updated: 29 August 2017
Looking at the skeleton suspended in front of me, I was shocked to see how crooked it was.
The hips tilted over to the right side, the spine to the left and the shoulders hunched over like someone very elderly.
It looked painful. And I knew it was, because this was my back — and it had been causing me problems for about 15 years. I was using virtual reality (VR) technology to see for the first time what could be triggering my back pain and stiffness.
Although I was sceptical at first, something clicked as I examined the 3D image. It suddenly seemed glaringly obvious that my poor posture was putting painful stress on my back and joints.
Seeing my problems 'in the flesh' — albeit virtually — finally helped me understand why I might be in pain.
'Understanding is the first step towards getting better,' says Matt Flanagan, a chiropractor at Back To Health, the West London clinic behind the technology.
'If we can't engage patients with what's wrong, we're not going to change their behaviour and get them to stick with their exercises,' he adds. 'Virtual reality is a way of communicating we've never had before. Patients struggle to fully understand X-rays, but when they see the 3D image, they're able to join the dots.' Read more on Can virtual reality and presence help to beat back pain?…