[Presence scholars should lead the way in making sure everyone involved considers and addresses the challenges created by evolving technologies, as highlighted in this column from Futurism. –Matthew]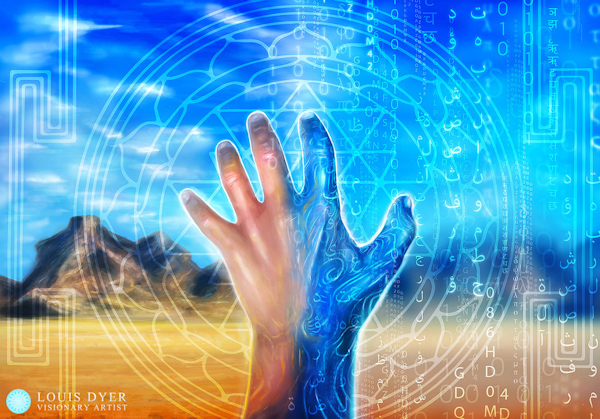 [Image: "Reality is An Illusion" by Louis Dyer via Deviant Art]
Will AI Blur the Lines Between Physical and Virtual Reality?
By Jay Iorio, Innovation Director for the IEEE Standards Association
August 15, 2017
The Notion of Reality
As technologies like artificial intelligence (AI), augmented and virtual reality (AR/VR), big data, 5G, and the internet of things (IoT) advance over the next generation, they will reinforce and spur one another. One plausible scenario is a physical world so enhanced by personalized, AI-curated digital content (experienced with what we today call augmented reality) that the very notion of reality is called into question.
Immersion can change how we interact with content in fundamental ways. For example, a fully immersive AR environment of the future, achieved with a wide-field-of-view headset and full of live content integrated with the built environment, would be intended by design to create in the user an illusion that everything being sensed was "real." The evolution toward this kind of environment raises a host of ethical questions, specifically with attention to the AI that would underlie such an intelligent and compelling illusion.
When watching a movie, the viewer is physically separated from the illusion. The screen is framed, explicitly distinct from the viewer. The frame is a part of traditional art forms; from the book to the painting to the skyscraper, each is explicitly separated from the audience. It is bounded and physically defined.
But with digital eyewear, things change. Digital eyewear moves the distance of digital mediation from the screen (approximately 20 feet) to the human face, which is at zero distance, and almost eliminates the frame. It starts raising inevitable questions about what constitutes "reality" when much of one's sensory input is superimposed on the physical world by AI. At that stage of the technology's evolution, one could still simply opt out by removing the eyewear. Although almost indistinguishable from the physical world, that near-future world would still be clinging precariously to the human face.
The next step would be moving the source of the digital illusion into the human body – a distance of less than zero – through contact lenses, implants, and ultimately direct communication. At that point, the frame is long gone. The digital source commandeers the senses, and it becomes very hard to argue that the digital content isn't as "real" as a building on the corner – which, frankly, could be an illusion itself in such an environment. Enthusiasts will probably argue that our perception is already an electrochemical illusion, and implants merely enhance our natural selves. In any case, opting out would become impractical at best. This is the stage of the technology that will raise practical questions we have never had to address before. Read more on Ethical, practical challenges of VR-AR-AI-IoT blurring the lines between physical and virtual reality…