[Here's a short story about a new effort to add senses to presence experiences; it's from New Scientist, where it includes a 0:41 second video; another video ("[CHI 2017] Ambiotherm: Enhancing Presence in VR by Simulating Real-World Environmental Conditions") is available on YouTube. –Matthew]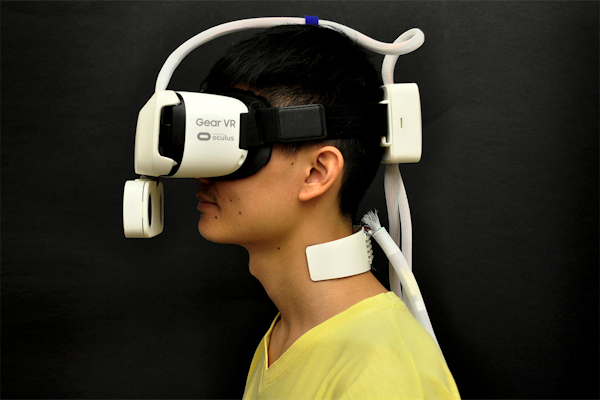 Virtual reality weather add-ons let you feel the sun and wind
13 February 2017
By Timothy Revell
Virtual reality devices can already fool your eyes and ears. Soon your other senses will be fooled too, with the creation of a device that can bring the weather in your virtual world to life.
Nimesha Ranasinghe at the National University of Singapore is working towards the ultimate VR experience. Last year, his team showed how electrodes can be used to add sweet tastes into virtual reality. His new accessory, called Ambiotherm, adds atmosphere into the mix as well.
Ambiotherm has two components that combine with a normal VR headset. The first is a wind module that contains two fans that clip on to the bottom of a headset.
"This means that we can simulate the wind blowing in your face, for example, as you ski down a mountain," says Ranasinghe.
The second is a temperature module that attaches to the back of the neck. "So when walking through a virtual desert, we can simulate the harsh sun beating down on you," he says. Read more on Virtual reality weather add-ons let you feel the sun and wind…