[Netflix is experimenting with interactive programming; here's a key quote from the director of product innovation at Netflix: "The children's programming space was a natural place for us to start since kids are eager to 'play' with their favorite characters and already inclined to tap, touch and swipe at screens. They also talk to their screens, as though the characters can hear them. Now, that conversation can be two-way." This story is from The New York Times, where it features another image and the Netflix "Kids Interactive Adventure" trailer; for more details see coverage in The Verge. –Matthew]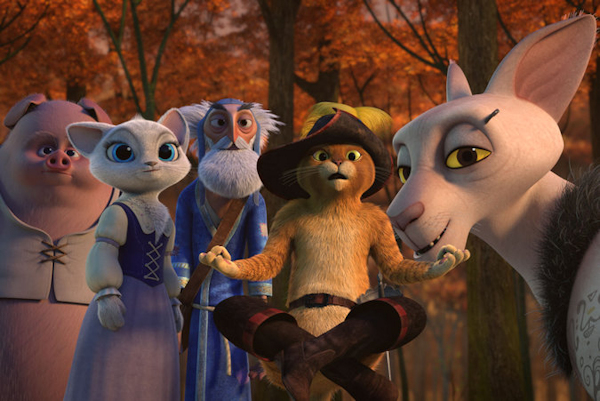 [Image: An image from "The Adventures of Puss in Boots." Netflix released an episode of the show that includes interactive elements.]
Netflix Lets Viewers Pick the Plot
By John Koblin
June 20, 2017
Attention, kids: Netflix just put you in charge.
Netflix on Tuesday released a new episode on its streaming service of the animated show "The Adventures of Puss in Boots" with an interactive twist. About a half-dozen times during the episode, viewers — most likely children — will be prompted to choose which plot point the show should follow. Each decision will send the story in a different direction.
At one point, for example, viewers must decide whether Puss will confront nice bears or angry bears. On a touch screen, a press of the finger will do the work; on a television, a remote control will be required.
The first interactive episode, called "Puss in Book," will last 18 to 39 minutes (depending on which path viewers go down), with viewers being asked to make a decision every two to four minutes.
"They are used to pressing play on the remote, setting it down and then just leaning back on the couch and letting Netflix roll," Carla Engelbrecht Fisher, the director of product innovation at Netflix, said of viewers. "In this case, we actually need them to hold on to the remote. We don't want it lost in the couch cushions. We need you to lean forward a little bit to engage with the choices."
The introduction of such a feature — which Netflix will roll out for another children's series next month, and a third next year — is, at this point, an experiment. But if it's a hit with subscribers, and if Netflix executives are impressed with the results, the implications for the TV industry could be significant.
Although the streaming service has not made plans to feature this kind of interactive viewing in, say, a future season of "House of Cards," the potential is there for it to eventually expand beyond children's programming. Read more on Netflix introduces interactive programming to engage viewers…