[Another very practical application of presence is described in this story from WTTV CBS4. For more information see the FLAIM Trainer website. –Matthew]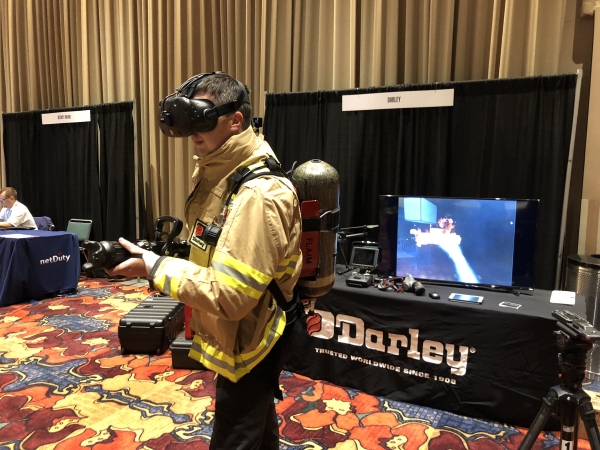 Virtual reality training on display at downtown firefighters convention
April 25, 2018
By Zach Myers
INDIANAPOLIS, Ind. – Firefighters attending this year's Fire Department Instructor's Conference in downtown Indianapolis are getting their first look at a new, virtual reality training system.
The technology, designed by "Flame Systems," is engineered to give a realistic simulation of various fire emergencies in a virtual environment.
"We've just launched here at the show today, and this is the first time the North American market has seen this sort of technology," said Flame Systems spokesperson James Mullins. "What we're trying to do is bring all the realism of a fire fight into the virtual environment to give people that experience."
Simulated emergencies on display included a kitchen fire, a propane tank leak and an aircraft fire.
The system consists of a set of VR goggles that provide a 360 degree view of simulated emergencies in real time. It also includes a fire jacket that can be heated to simulate heat radiating from a virtual fire. The hose held by a firefighter training on the system is attached to a reel that pulls backward when water is being sprayed. Read more on VR trainer creates multimodal simulations of firefighting emergencies…